Safyre Terry's Christmas wish has come true thanks to the generosity and support of the internet. After receiving mounds of Christmas cards to fill her thrift store tree, the eight-year-old girl filmed a short video to express her joy and gratitude.
"I've got all of these cards on the Christmas tree — I don't think we can put some more on there," Safyre said. "Thank you."
Watch the full video here.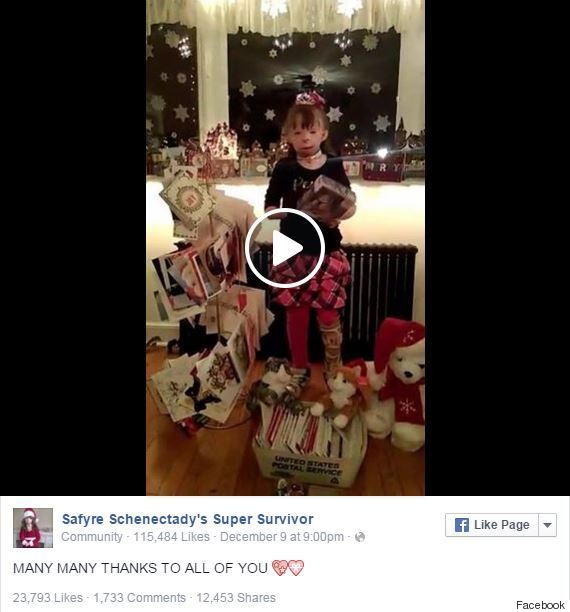 In 2013, a house fire took the lives of Safyre's father and three siblings. The eight-year-old girl was the only one to survive the tragedy because her dad, David Terry, cradled her in his arms to protect her from breathing in the hot air.
Safyre suffered burns to 75 per cent of her body and lost a hand and foot. She is now in the care of her father's sister, Liz Dolder and lives in New York.
This week, Dolder shared a number of photos of Safyre picking up Christmas cards from the post office and opening presents sent from all over the world.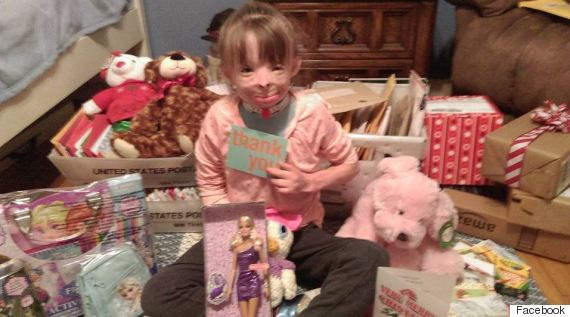 Dolder also posted a thank you message to Safyre's Facebook community, saying: "We, my family and I have been through so much darkness of this world. Then to see the most powerful BEAUTY of the world. The world coming together to make Safyre's wish come true is unfathomable."
On top of all the cards and gifts, more than 8,000 people have donated money to Safyre and her family through the crowdfunding site YouCaring. Thanks to their generosity, the campaign has raised over $300,000, far surpassing its goal of $15,000.
Dolder told BBC that the money will be used to find a stable home for the family and to set up a trust for Safyre's education.
In response to the outpouring of love and support for Safyre, Dolder said: "The world is so filled with hate. Never in our wildest dreams did we think that she'd bring the world together over Christmas cards."
If you would like to add to Safyre's Christmas card collection, send to:
Safyre
P.O. Box 6126
Schenectady NY 12306
Also on HuffPost
Mom Takes Empowering Photos Of Kids With Disabilities