CBC/YouTube
Prime Minister Justin Trudeau's love of the "Star Wars" film franchise is no secret.
For Halloween, he dressed as Han Solo, while his wife Sophie Grégoire-Trudeau went as Princess Leia.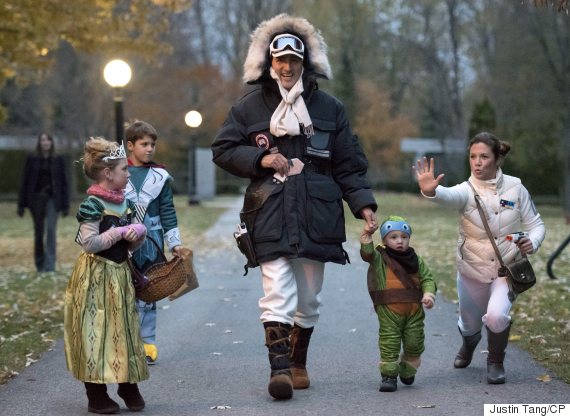 And he was giddy when he spotted the R2-D2 jet at the Vancouver airport during the election campaign earlier this year.
A Star Wars plane is taking off just as Trudeau lands. It his favourite movie. http://t.co/tO3A43flDPpic.twitter.com/n5gISjE0xy

— Althia Raj (@althiaraj) October 18, 2015
Now, the folks at CBC Archives have uncovered a classic clip of an 11-year-old Trudeau leaving an Ottawa screening of "Return Of The Jedi" with his dad and former prime minister Pierre Trudeau.
The junior Trudeau told the reporter: "It was better than 'The Empire Strikes Back' and 'Star Wars' — at least I think so."
But time may have tempered that initial reaction.
In a Q&A, Trudeau told The Huffington Post Canada in October that he prefers, in order, episodes "5, 4, 6, 2, 3. Too bad there was never a 1 made."
And on Monday, the prime minister acknowledged on Twitter, "When I was a child, I spoke as a child," pointing out his preference for "The Empire Strikes Back."
.@HeerJeet When I was a child, I spoke as a child. Here's my reconsideration: https://t.co/sFM6uCBqIz#StarWarshttps://t.co/MZzxsRWeAc

— Justin Trudeau (@JustinTrudeau) December 14, 2015
We'll check back with the PM if that changes once he sees "The Force Awakens."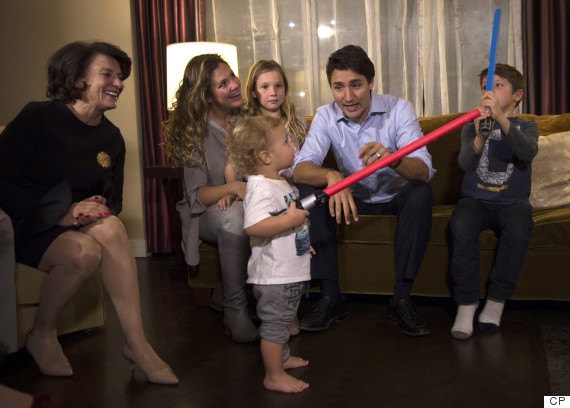 Justin Trudeau waits for election results with his family on Oct. 19, 2015. (Photo: Canadian Press)
Also on HuffPost: