An average baby is born weighing 7.5 pounds, but this year we saw some pretty remarkable births that far exceeded that. From India's biggest baby ever to the heaviest newborn delivered in Florida, there were a handful of infants that made headlines this year.
Here we round up the biggest babies born in 2015.
1) Rajaram Kalawati Hospital, India
Birth weight: 14.77 pounds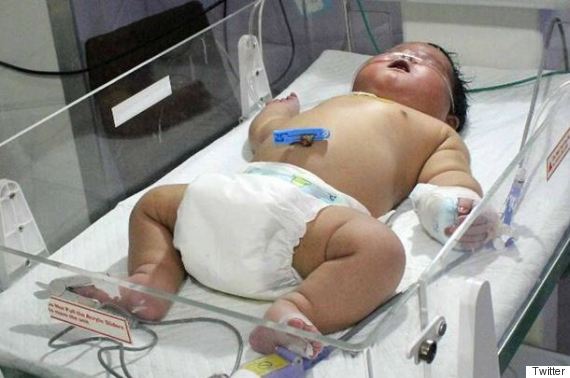 In November, India's biggest baby ever was born! Mom Firdous Khatun was only in labour for 15 minutes before she gave birth to a baby boy weighing a whopping 14.77 pounds. This is the 36-year-old mom's ninth child and all her other kids were born an average eight pounds.
Previously, an infant weighing 13.16 pounds born via C-section held the title of the country's heaviest baby. The infant was born just one month before Khatun's son.
2) St. Joseph's Women's Hospital, Florida
Birth weight: 14.1 pounds
Maxxzandra Ford didn't know she was pregnant until she was 35 weeks along. In January, she gave birth to her third child naturally. Baby boy Avery weighed a surprising 14.1 pounds and is now the heaviest baby born at St. Joseph's Women's Hospital in Tampa, Florida.
Recalling her son's birth, Ford told WFLA: "I was cussing up a storm. When I felt his head come out, I knew he was bigger than 10 pounds."
3) West Penn Hospital, Pennsylvania
Birth weight: 13 pounds, 10 ounces
Oh, baby! Mom delivers 13-pound, 10-ounce baby at Pittsburgh hospital http://t.co/a3utc07YvG pic.twitter.com/aaOnMs1kZB

— 1001portails US (@1001ptUS) May 8, 2015
Isaac Michael Hall was delivered via C-section at West Penn Hospital back in May. Weighing 13 pounds, 10 ounces and measuring 25 inches long, Isaac is now the largest baby the hospital has delivered in the past 30 years. When he was born, he already fit into six-month-old baby clothes!
4) University Hospital of Wales, Cardiff
Birth weight: 12 pounds, 9 ounces
Cardiff mother's shock as baby son is born weighing 12lb 9oz -- https://t.co/CGhtbXubXS -- Aaron Amaf was 'like a … pic.twitter.com/XvmJNCqoql

— Health Alerts (@healthoutbreaks) October 28, 2015
Saima and Munawar Amaf were shocked when their third son Aaron was born weighing 12 pounds, 9 ounces, which is more than the birth weight of his two brothers combined! The infant was delivered via C-section at the University Hospital of Wales in Cardiff in October.
While Aaron does not hold the record for biggest baby born in Britain, he is still one of the heaviest. According to U.K. Office for National Statistics, the biggest baby born naturally in Britain was George King. The infant was delivered in February 2013 at the Gloucester Royal Infirmary, weighing 15 pounds, 7 ounces.
Full story here.
While these babies are certainly big, their birth weights are still no match for the infant who holds the Guinness World Record. According to Guinness, the heaviest baby ever was born in Aversa, Italy, in September 1955. He weighed a staggering 22.8 pounds.
ALSO ON HUFFPOST: