Canada's foreign affairs and defence ministers insist there is "no pressure" from the Americans to step up Canada's contributions to the fight against ISIS, despite a letter from U.S. Defence Secretary Ashton Carter asking for more military contributions from its allies.
"This letter is just the regular course of routine," Defence Minister Harjit Sajjan told reporters Tuesday. "We're having discussions with the coalition partners in terms of what the current situation is, what are the resources that are needed to allow us to refine our options."
"There's no pressure at all," he said following a cabinet meeting on Parliament Hill. "We have to look at the entire situation.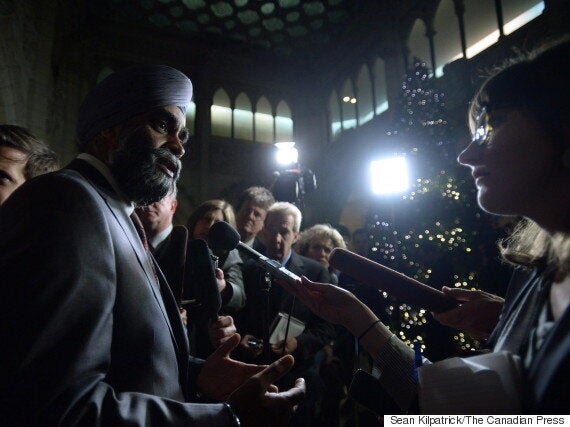 Defence Minister Harjit Sajjan talks to media outside the House of Commons. (Photo: Sean Kilpatrick/CP)
"Canada brings a tremendous amount of capability to the table," he said. "We want to make sure that what we contribute is not is about political pressure or political expediency. It's about having impact on the ground."
During the election campaign, Justin Trudeau's Liberals pledged to end Canada's combat mission in Iraq and Syria.
But while it still intends to bring its fleet of six CF-18s home, surveillance and refueling aircraft currently participating in the U.S.-led bombing mission will stay, at least for a while.
"We have … a wide variety of capabilities, and that's just one option," Sajjan said.
Canada has also signaled it intends to bolster its current training mission, which has approximately 70 Canadian ground troops currently working with local forces in Northern Iraq.
In response to an inquiry from CBC News, the U.S. military declined to offer any details on "private diplomatic discussions."
"We greatly value Canada's existing contribution as a member of the counter-ISIL coalition. Any decision related to Canada's contribution to the counter-ISIL campaign or any additional contributions would be a sovereign decision for the government and people of Canada," a U.S. defence department spokesman wrote by email.
Canada's military continues to notify the media as CF-18 airstrikes continue in the region.
The current bombing mission was scheduled to continue through March.
In a separate scrum Tuesday, Foreign Affairs Minister Stéphane Dion would not commit to a timeline for withdrawal.
"It will come," Dion said. "We need to work with our allies to be sure that we'll have that right. It will take some time, but it will come.
"It remains soon, but we need to work with our allies, and it will not happen before the end of the year, you may be sure of that. And it will happen somewhere at the beginning of next year," the foreign affairs minister said.
Sajjan dismissed a suggestion that in recent remarks, U.S. President Barack Obama deliberately did not mention Canada when listing countries fighting in the coalition against Islamic State in Iraq and Syria (ISIS).
"I don't think we should read too much into that," he said. "Our relationship is far deeper than that, and we're having some great discussions regarding how we're going to move forward as coalition partners."
Letter sent to other countries, too
Earlier this month, the U.K. voted to step up its military engagement against ISIS, extending its airstrikes into Syria.
Canada is not the only country to receive a letter from Carter seeking additional military support. Several dozen countries were contacted, according to Germany's defence minister.
Ursula Von der Leyen said Tuesday her country was rejecting the U.S. request.
She said she would write back, saying Germany was on the same side as the U.S. and was already doing a lot.
After the Nov. 13 attacks in Paris, the German parliament approved a plan to join the campaign in Syria by sending Tornado reconnaissance jets, a frigate to help protect the French aircraft carrier Charles de Gaulle, refueling aircraft and up to 1,200 military personnel.
Germany will not conduct air strikes.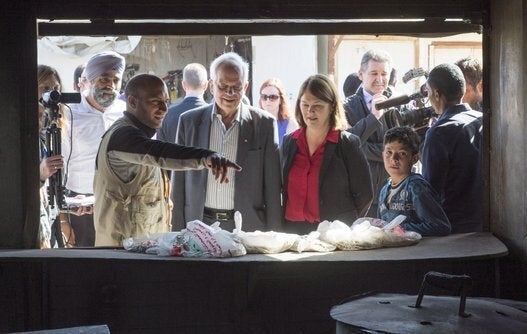 Canadian Ministers Visit Refugee Camp In Jordan