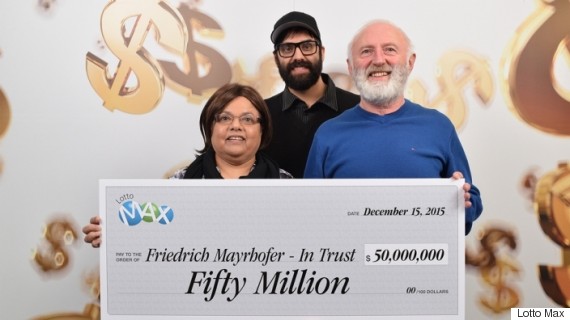 Friedrich and Annand Mayrhofer along with their son Eric Mayrhofer celebrate their lotto win.
VANCOUVER — It's been a $50-million question across Canada for the last 21 months: who owns the lone winning ticket from a 2014 Lotto Max draw.
Friedrich Mayrhofer stepped forward to make the claim on Tuesday on behalf of himself, his wife, Annand, and their son, Eric.
He entered the news conference carrying a picture of himself with his other big lottery win of $1,000 two decades before.
"It took 20 years to get a few more zeros on the end,'' he said with a smile.
Winner of $50 Million Lotto Max from March 14, 2014 Friedrich Mayrhofer pic.twitter.com/AG3pHQYb4E

— John L. Daly (@John_L_Daly) December 15, 2015
Mayrhofer, 67, who described himself and his family as shy and private, said the delay was because they wanted to remain anonymous out of concern they wouldn't be able to handle such an enormous prize.
They have since hired a group of advisers to help them handle the money, he said.
A lawyer for the family tried to claim the prize on behalf of a trust earlier this year, just days before the ticket was to expire.
"Money is nice, but the priority is my family."
After a review, B.C. Lottery Corp. president Jim Lightbody said they determined only a person could make the lottery claim and anyone who buys a ticket is required to consent to their name, photo and the amount of the prize being published when they buy a ticket.
"This has been a very unique situation for all of us involved, let alone the winners. And there has been significant public interest in this win,'' Lightbody said.
The corporation received 739 inquires about the prize and reviewed every claim, he said.
But only the Mayrhofer's ticket qualified for the $50-million win.
"This has been a very unique situation for all of us involved."
In hindsight, Mayrhofer said he wished he would have come in earlier because claiming the money was much easier than he thought and they lost about $500,000 in interest.
"Money is nice, but the priority is my family,'' he added.
Plans to spend winnings on renovations, furniture
The newly retired steel fabricator and his wife have been married for 42 years and have three children and an undisclosed number of grandchildren who Mayrhofer didn't want to discuss.
They've lived in the same home in Langley, B.C., southeast of Vancouver, for 36 years and plan to do a renovation with the cash.
He said his wife also plans on buying some new furniture and he "hoped'' they could afford the expense.
Mayrhofer said he and his family are very thankful for the win and he even thanked those who bought tickets to the March 14, 2014 draw, but didn't win.
When asked if he was going to keep buying tickets, he replied he had already purchased two tickets for this Friday's draw.
"If I win Friday, I'll be here on Monday,'' he said to a roar of laughter from gathered media and onlookers. "I'll make up for the last (lost) interest.''
Also On HuffPost:
The Accidental Millionaires: 7 Stories Of People Who Stumbled Into Their Lottery Wins