A Conservative senator is demanding NDP Leader Thomas Mulcair publicly apologize for a campaign ad that he says implied he was under criminal investigation.
Quebec Sen. Jean-Guy Dagenais released a statement Monday expressing umbrage with an NDP commercial released in July. The hard-hitting spot — titled "Enough" — highlighted a string of Tory controversies, including the conviction of former party staffer Michael Sona in the robocalls scandal and ex-MP Dean Del Mastro for election fraud.
The ad notably ends with controversial footage of Del Mastro being led to a police paddy wagon in chains.
At one point, a narrator says that "one-third of the Senate" is under RCMP investigation. Photos of 12 Tory senators, including Dagenais, are shown.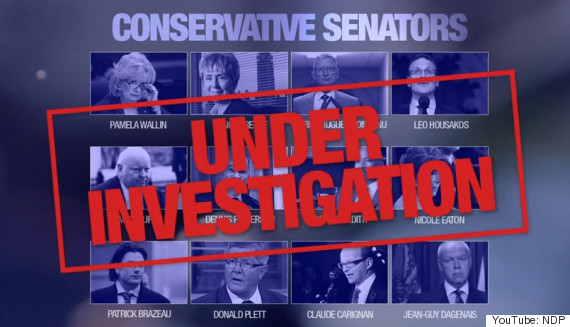 Screengrab of NDP's "Enough" ad. Dagenais can be found in the bottom right.
Dagenais was one of 30 senators whose expenses were flagged by Auditor General Michael Ferguson in June. Though he was not one of the nine senators whose files were immediately referred to the RCMP, The Toronto Star reported later that police would review the spending of all 30 senators.
"I am not, and never was, the subject of a police investigation," Dagenais said in the statement.
The senator accuses Mulcair of authorizing the release of an ad making a "false and defamatory allegation which is causing … harm." The NDP leader's actions served only to discredit the Senate and its members, the release reads.
Dagenais says his lawyers will become involved if Mulcair does not issue the mea culpa within 10 days.
The Huffington Post Canada has reached out to the NDP for their comment.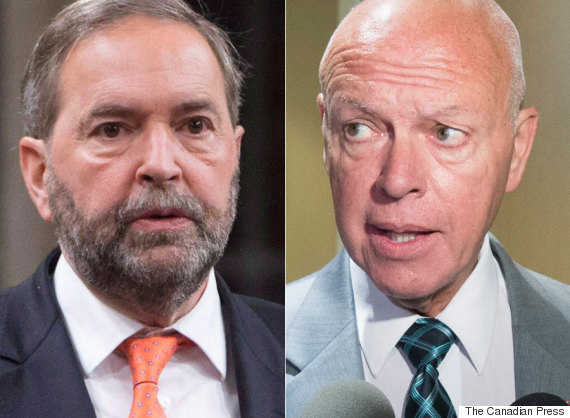 NDP Leader Thomas Mulcair and Conservative Senator Jean-Guy Dagenais. (Photo: CP)
This is not the first time that Dagenais has sparred publicly with New Democrats.
In 2014, he bashed then-MP Charmaine Borg for sending a flyer to her constituents advocating the abolition of the Senate.
Dagenais sent a letter to all parliamentarians and their staff calling Borg's flyer a "rag." It also suggested Borg, then 23, was elected in a fluke in 2011 and would likely not win re-election.
He referred to her as one of "a bunch of puppets," and told her parliamentary life was "not just about whining."
NDP accused senator of 'misogynistic' attack
Nathan Cullen, NDP House leader at the time, called the missive "paternalistic, childish, condescending and frankly misogynistic."
Borg lodged a complaint with the Speaker of the House of Commons, saying the letter impeded her ability to do her job.
In the Commons, Borg called the tone of the letter "very misogynistic" and said she wouldn't have been attacked that way if she were an old, white man.
"The overall tone of this letter suggests that I am simply a little girl who does not take her work seriously," she said.
The complaint was ultimately rejected and Borg was defeated in the fall federal election.
With files from The Canadian Press
Also on HuffPost:
Key NDP MPs Defeated In 2015 Election