Interim Conservative Leader Rona Ambrose says any plan to sell pot in liquor stores like the LCBO would not guarantee it will be kept out of the hands of children.
This criticism comes after Ontario Premier Kathleen Wynne suggested this week that the federal government look to its provincial liquor agency as one way to sell marijuana. The premier said there would be advantages to using the LCBO.
"The LCBO, is very well-suited to putting in place the social responsibility aspects that need to be in place," Wynne told reporters.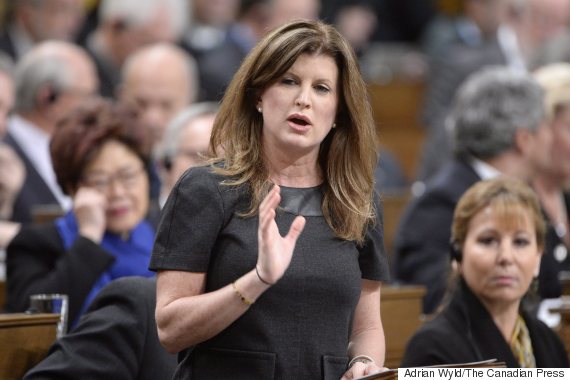 Rona Ambrose speaks in the House of Commons. (Photo: Adrian Wyld/CP)
Ontario isn't the only province considering that approach.
There is a push in British Columbia to use private liquor stores there to distribute and sell marijuana.
But the idea does not make much sense to the federal Opposition leader.
"Well, that's not been hugely successful in terms of restricting access for kids. So we'll be watching that. That to me is the No. 1 issue," Ambrose said in a year-end interview with CBC News.
She points to the Canadian Paediatric Association statement this week that marijuana, either recreational or medicinal, is harmful to teenagers' developing brains.
"When we look at our experience with alcohol and access for kids, it's not just that easy to say we're going to 'regulate and restrict,'" Ambrose said.
That is the exact wording from this month's speech from the throne, which pledged to legalize, regulate and restrict marijuana.
Pot already 'extremely accessible'
The ministers of health and justice are working together on this issue.
In an interview recently with CBC News, Health Minister Jane Philpott said that anyone who is a parent of a teenager will know that marijuana is already very accessible.
"It's extremely important to me as a young parent and as a provider to make sure we keep marijuana out of the hands of kids, and young people whose brains are developing. And at the moment, unfortunately, it's extremely accessible," she said.
Ambrose is waiting to see what the federal government will bring forward in terms of regulation, but she wants it to take a slow and prudent approach to this campaign promise.
ALSO ON HUFFPOST:
Which Province Smokes The Most Pot?