You can buy beer in select grocery stores in Ontario as of Tuesday — just not anywhere near downtown Toronto.
The province has released a list of grocery stores where beer can be bought under a new program, and it doesn't include a single location in the burgeoning condo neighbourhoods of the inner city.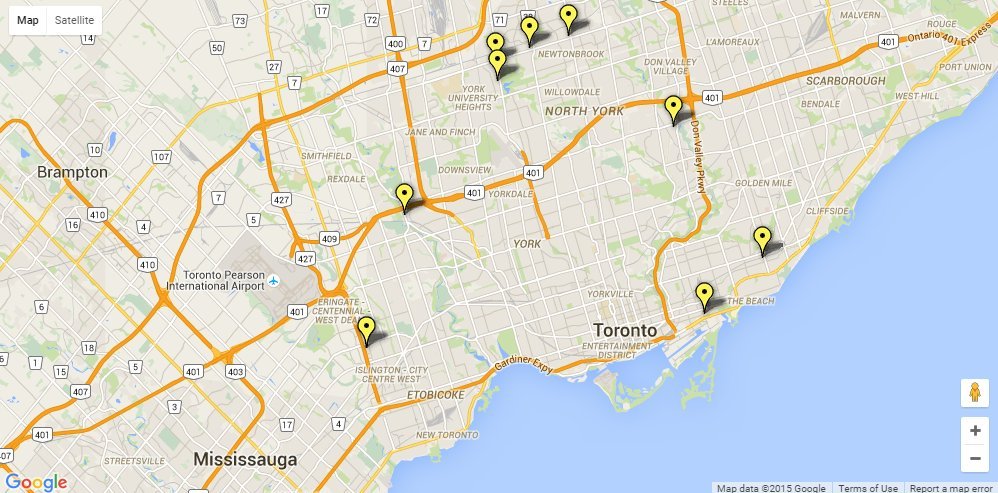 The closest thing to an inner-city location is a Loblaws on Leslie St. in the city's east end.
Other cities, such as Hamilton and Kitchener-Waterloo, will also see no beer sold in grocery stores downtown, at least until the program expands. The whole K-W area has one grocery store licensed to sell beer for now, while St. Catharines has been passed over altogether.
Notably, Ottawa will have a beer-selling grocery store downtown (a Sobeys on Metcalfe), but it's one of only two grocers licensed inside the city's Greenbelt.
One thing that may be holding back downtown locations is the province's requirement that participating stores have at least 10,000 square feet of retail space devoted to food. Downtown grocery stores tend to be smaller, and there are fewer of the big-box stores seen in suburban areas.
The Canadian Press reports:
TORONTO — Premier Kathleen Wynne made history Tuesday simply by buying a six-pack of beer at a Toronto grocery store, something that hasn't been legal in Ontario since prohibition.
Wynne was carded by the cashier when she bought beer at a Toronto Loblaws store, starting the long-promised roll out of beer sales in select grocery outlets across the province.
The goal is to have six-packs of beer available at 60 grocery stores by the end of this year, eventually expanding to 450 grocery retailers — large and small — by 2017.
Premier Wynne has arrived to purchase her six-pack of beer inside a Loblaws on Leslie Street. pic.twitter.com/vimkqh0Fjw

— NEWSTALK1010 (@newstalk1010) December 15, 2015
Last month, the Liberal government announced 13 grocery stores and chains that were chosen to sell beer in the first round, including retail giant Walmart Canada, Metro Ontario and Sobeys, which all have stores across the province.
Of the 60 beer licences, 12 were reserved for small grocers including Starsky Fine Foods in Hamilton, Pino's Get Fresh in Sault Ste. Marie and J-&-B La Mantia in Lindsay.
Loblaws announced beer is now available in 19 of its outlets, including some Real Canadian Superstore, Your Independent Grocery and Fortinios locations.
The foreign-owned Beer Store, which has had a virtual monopoly on beer sales in Ontario for nearly 90 years, will keep the exclusive right to sell cases of 24 and most 12-packs.
Also on HuffPost
Top 10 Best Places for Beer Snobs