Ontario Premier Kathleen Wynne announced beer is now on sale at 58 grocery stores across the province as of Tuesday, with hundreds more stores set to carry beer in the coming years.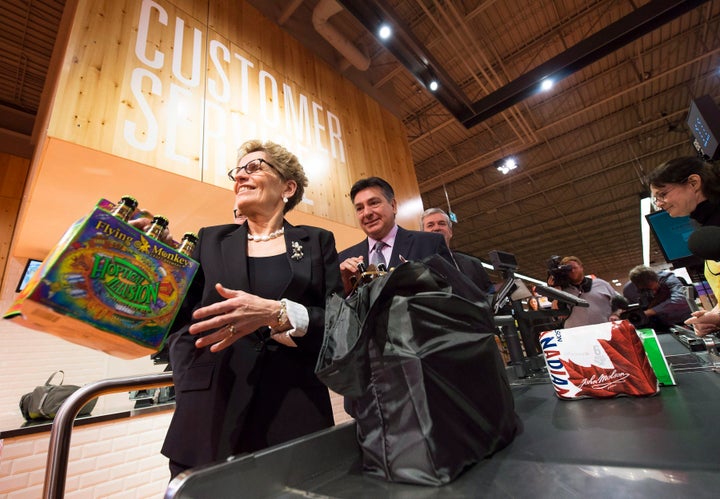 Ontario Premier Kathleen Wynne, left, and Minister of Finance Charles Sousa purchase beer at a Loblaws grocery store in Toronto on Tuesday, December 15, 2015.
But there are a lot of rules for store owners to follow if they want to stock suds. There are the basics, like the hours beer can be sold, but there are some odd ones, too. Here's a look at a few of the restrictions, as published on an Alcohol and Gaming Commission of Ontario tip sheet:
- Only grocery store staff over 18 with SmartServe Certification may handle beer, which includes cashiers and those who stock shelves.
- Beer can only be sold in one section of the store. And, if the store needs more than one aisle, those aisles must be connected. (The Loblaws where Wynne held her news conference wisely placed the beer near the snack aisle.)
- As for the beer itself, it can be any style but must remain under 7.1 per cent alcohol by volume. Flavoured beer is OK, the AGCO says, but malt-based coolers are banned.
- Grocery store operators can't sell any beer that it has a direct financial interest in the brand or trademark. So, don't expect a Sobeys stout, a Real Canadian Superstore IPA or a Coppa's Fresh Market ale.
- Stores can't let you use reward points on beer. But, you can at least collect points from your beer purchases.
- Store owners are also forbidden from offering free snacks or other discounts in return for the purchase of beer.
- Stores will, however, be able to offer free samples. So at least you can look forward to that next time you have run errands.