Toronto is still a "safe city" even after a series of fatal shootings and stabbings over the last several days, Mayor John Tory told reporters Wednesday afternoon.
"That is borne out by any of the statistics you look at, notwithstanding the very concerning and deeply troubling events of the last week or so. There are other weeks that we could point to during the course of this very same year, 2015, where none of those things happened."
Tory made the comments in response to a question during a news conference at city hall after a meeting with the federal Minister of Infrastructure, Amarjeet Sohi.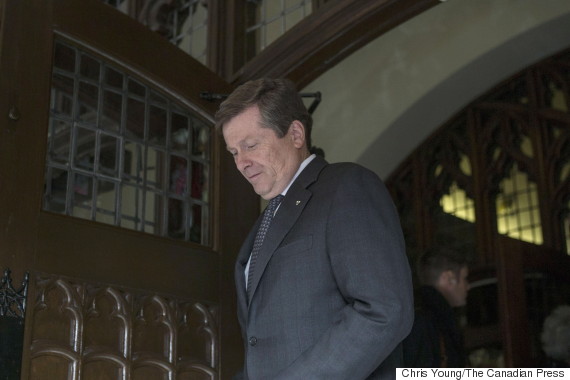 Toronto Mayor John Tory leaves a memorial service for Ken Taylor, a former Canadian Ambassador to Iran,. (Photo: Chris Young/CP)
"It's deeply troubling to me that those things happened in our city in a short period of time and that they happened ever at all in any period of time," the mayor said.
Tory was addressing a spate of violent crime that began on Friday afternoon with a drive-by shooting on Peter Street north of King Street West that killed one man, and a seemingly-random stabbing in the city's underground PATH system that has left a woman fighting for her life in hospital.
The mayhem continued into Friday night with a fatal shooting near Parkway Forest and Sheppard Avenue East, and into the weekend with a double shooting in Rexdale that sent two men to hospital Sunday night.
'Gang-related'
Tuesday night, cancer researcher and Ryerson adjunct professor Mark Ernsting was stabbed to death in the Gerrard Street and Yonge Street area in what police describe as a random "robbery gone wrong."
Tory described most of the attacks as "gang-related," and expressed confidence that "we have a chief who understands that this is a serious problem."
But the city does have "an issue with the deployment of police officers," Tory said.
"You can see from the [KPMG] study that came out ... how much time of police officers is taken up on calls that don't have to do with fighting violent crime ... and it would really help us if we had that degree of flexibility."
Tory was referring to the KPMG study, released last week, that was commissioned by the Toronto Police Services Board in 2014. The report suggested several reforms aimed at cutting the Toronto police budget and deploying police officers more efficiently.
Tory said he was looking forward to budget discussions that would "allow us to have more police officers in more cars, on bikes, on foot."
But he had harsh words for Coun. Giorgio Mammoliti who talked Tuesday about bringing in Canadian troops to help Toronto police fight violent crime.
"I just don't like the use of the word 'crisis' or things that create that air by saying, 'call in the army.'" Tory said.