Harvard Business School researchers recently discovered Airbnb hosts are less likely to book renters with black-sounding names than with white-sounding names.
For the working paper, they created 20 fake profiles with the same profile description and no photo, but some with black and white sounding names. They attempted to book 6,400 listings in five major cities across the U.S.
The success rate for the profiles with black names was 42 per cent, while for white names, it was 50 per cent.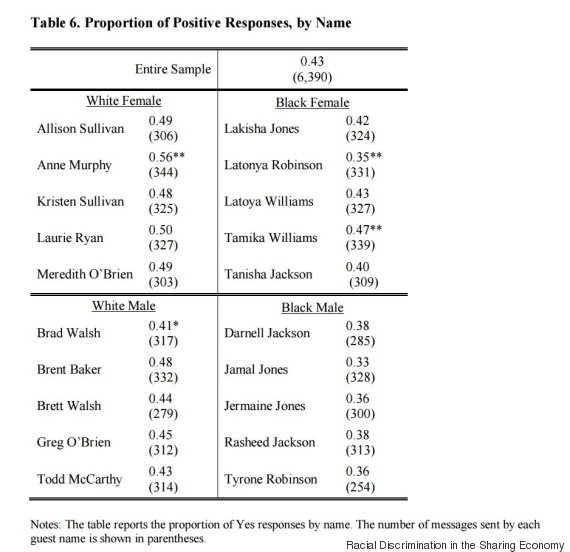 Business Insider included a screen capture of the names from the case study in their story.
The study showed that discrimination was the same was the same regardless of the host's race, gender or price of the property offered. But their findings show that this rejection cost the hosts. Those who turned down the renter only found a replacement 35 per cent of the time.
This isn't the first time Airbnb has been found to foster discrimination.
CNN reported two of the researchers published another Airbnb study earlier this year. This time, they compared how much white hosts and Asian hosts charged for their listings in Oakland, CA. They found that, for whatever reason, Asian hosts published listings for 20 per cent less than white hosts charged for similar apartments.
Airbnb's anti-discrimination policy reminds hosts that "many countries, including the U.S., have laws preventing discrimination on the basis of race, religion, national origin, disability, sex, sexual orientation, or age. In the U.S., anti-discrimination laws apply to discrimination by any inn, hotel, motel, or other establishment that provides lodging to guests."
CNN also writes that another Harvard study from the researchers comparing black and white hosts showed that black hosts earned 12 per cent less than white hosts posting similar homes.
The researchers write that the company could help reduce bias by concealing guests' names or allowing a pseudonym, rather than legal names, on the site.
They already took a step ahead of Airbnb and made a Google Chrome plugin for hosts called "Debias Yourself." It allows hosts to block guests' name and faces, so all they see is the message when renters contact them.
It's a step in the right direction — but let's keep hoping for a day when we don't need anything like this at all.
Also on HuffPost