Canada's defence minister will commit only to pulling out of the bombing mission against the Islamic State in Iraq within the next six months — despite a parliamentary motion that concludes airstrikes in Iraq at the end of March.
Harjit Sajjan, a former Vancouver police detective and lieutenant-colonel in the Canadian Forces, told The Huffington Post Canada in a year-end interview that the six CF-18s will be out in "less than six months," but he wouldn't pledge to pull them out within three months.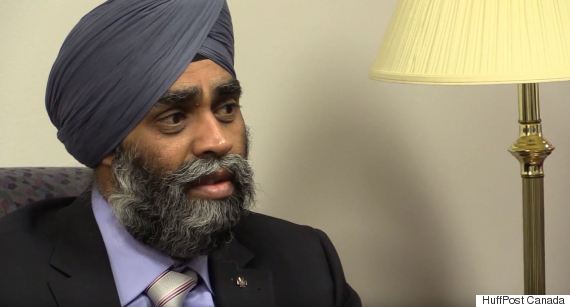 Harjit Sajjan said in an interview that Canada will pull out its fighter jets from Iraq in a "responsible manner."
Last year, the Conservative government passed a motion in the Commons seeking authorization to conduct airstrikes in Iraq and Syria until March 30, 2016.
"Right now, we are assessing various options for when that capability can be mitigated," Sajjan said.
During the fall election campaign, the Liberals promised to "end Canada's combat mission in Iraq" and "refocus" the military's contribution towards training local forces and providing more humanitarian support.
But despite the Liberals' victory on Oct. 19, the CF-18s' sorties have continued. This weekend, the military reported that two of its jets successfully struck an ISIL fighting position north of Al Kuwayr as well as a fighting position northwest of Mosul.
On Wednesday, two CF-18s were "helpful" in re-establishing a position held by Kurdish forces after a major attack by several hundred ISIL fighters. The offensive had caught Canada's allies and some of the 69 Canadian special forces who were training them by surprise, Maj.-Gen. Charles Lamarre told reporters Thursday.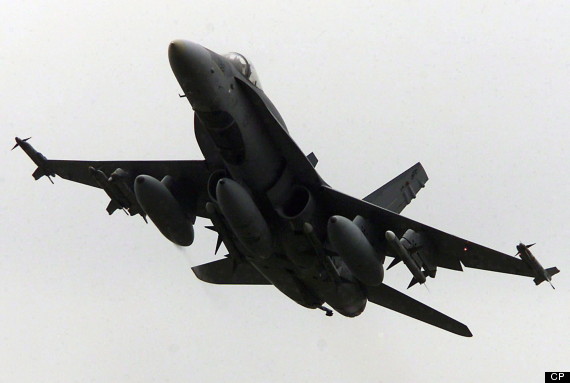 Bombs are still being dropped because Prime Minister Justin Trudeau promised U.S. President Barack Obama that Canada would withdraw in a "responsible manner," Sajjan told HuffPost.
"The previous government made the decision to be involved. For us to just make a snap political decision and extract right away, right now," he said, snapping his fingers, " it will decrease capability. We want to make sure that it is done in a manner that it does not decrease the capability within the coalition's air package."
Decision made based on info at the time
The 45-year-old political neophyte, who prides himself on being honest and genuine, seemed to suggest to HuffPost that the Liberal party might not have promised to pull out of the bombing mission had it been provided a more complete picture of the mission a year ago.
"Early on, during the campaign, when this was discussed, we didn't have, I think if — the decision was made based on the information that the government provided to the opposition at that time," he offered.
During a Commons debate this month, Sajjan chastised the Conservatives for their lack of leadership in failing to stop ISIL when it was a smaller and more manageable threat.
His colleague, Ottawa-area Liberal MP and retired Lt.-Gen. Andrew Leslie, asked former Conservative cabinet ministers "why the previous government chose not to deploy CF-18s to Afghanistan and instead focused the overwhelming majority of its efforts on training indigenous forces."
It would have been "great to have air support when we were on the ground fighting" in Afghanistan, Sajjan told HuffPost, but "our request was denied." Why? Sajjan paused. "I can't talk about this. This is my professionalism. I served the government of the day."
Now, Sajjan is focused on figuring out how Canada can best contribute to the coalition's effort.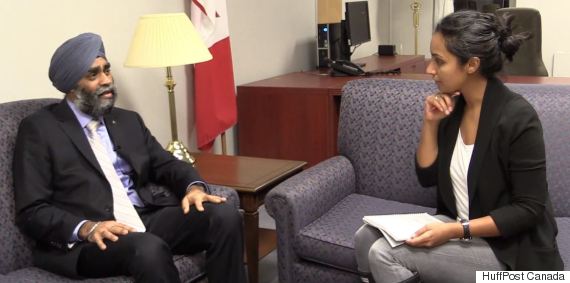 Defence Minister Harjit Sajjan speaks to HuffPost Canada's Ottawa bureau chief, Althia Raj, in an interview.
While the CF-18 pilots and staff have done "phenomenal work," Sajjan said the war won't be won from the air.
"It will be won by making sure that the forces that are fighting ISIL, from the Kurds, the Iraqis, and even Jordan is in this fight, protecting their borders, they are the ones who are going to have to take the fight to ISIL. If we do not support [them] … ISIL will just continue to evolve and will be able to withstand some of these other assets — and they will."
Proper synchronization needed
Ending the bombing mission is controversial. The Conservatives used their first Opposition day to call for the CF-18 combat mission to be maintained. They led question period off by asking about an apparent snub by Obama, who in a televised national address listed France, Germany, and Britain as the United States' "closest allies," noting they had ramped up their contributions to the military campaign against ISIL.
Sajjan thinks the critics are reading too much into Obama's comments. "I can always look at it as 'when you are such a close friend' you don't even need to be mentioned," he told HuffPost.
In the new year, Sajjan is expected to introduce a plan for a beefed-up training mission.
"I want to make sure that what we provide is actually going to be synchronized properly with the coalition effort," he said.
He is asking a lot of questions, Sajjan said, in order to have a good understanding of what is happening on the ground, not just in the country but in the region, and what the coalition effort is, what resources have been provided and where the gaps lie so Canada can figure out how best to contribute.
"If I don't want something to be said for security reasons, I'm not going to mention it, right? And people will understand that."
Foreign Affairs Minister Stéphane Dion recently suggested that the CF-18s would be called back early in the new year. He said the federal government might agree to keep Canada's refuelling aircraft, the Polaris CC-150, and a surveillance aircraft, CP-140 Aurora, in-theatre. Sajjan told HuffPost he is considering providing targeting expertise, something at which Canada excels.
"We do that extremely well, and in some cases, there are certain portions that we do better than anybody else."
Defeating ISIL isn't only about taking fighters off the battlefield, it is also about hampering their ability to actually fight, Sajjan said. No matter what weapons system you have "if you can't figure out what the target it, it is useless."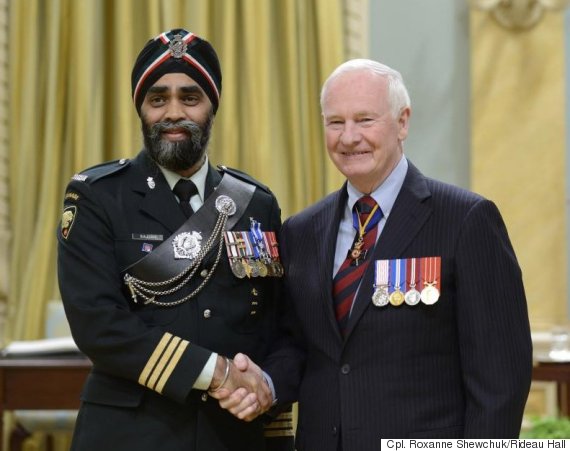 Harjit Sajjan was recognized by Gov. Gen. David Johnston in March 2013. (Photo: Cpl. Roxanne Shewchuk/Rideau Hall)
A decorated reservist, Sajjan is a rarity among Canada's defence ministers. His recent predecessors, Conservatives Jason Kenney, Rob Nicholson, and Peter MacKay, had no military experience.
Although Gordon O'Connor, a retired brigadier-general who was prime minister Stephen Harper's first defence minister from 2006 to 2007, had military service — the last minister before him to serve with the Canadian Forces was Gilles Lamontagne, a flight lieutenant in the Second World War who worked with Pierre Elliott Trudeau from 1980 to 1983.
Sajjan said he was surprised by his appointment, "given the calibre of people the PM could choose from." He leapfrogged over Leslie, for example, and his assignment has generated a lot of interest.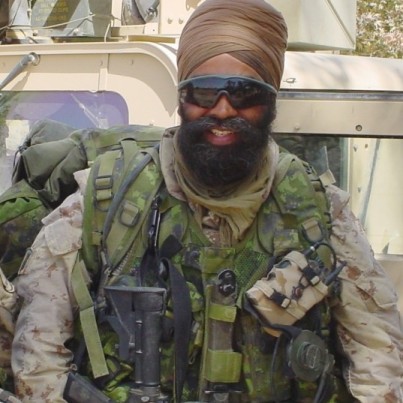 The Internet is abuzz with stories about Canada's new "badass" defence minister. His press secretary, on loan from the department, described drowning in media requests during his first three weeks in office.
"That is a bit of a surprise to me," Sajjan said.
A 2006 letter of appreciation from the commander of coalition's task force in Afghanistan, then Brig-Gen. David Fraser, praising him as the "the best single Canadian intelligence asset in theatre" whose "hard work, personal bravery and dogged determination undoubtedly saved a multitude of Coalition lives" has been making the rounds.
He chuckles every time somebody mentions his badass image. "If I can do this, anybody can — [and] if that is the image people see, I'm happy with that."
The picture of Sajjan dressed in desert-brown and green military camouflage uniform and black sunglasses was taken during one of his most difficult periods in Afghanistan, right after Operation Medusa, he said. It was the inspiration for a G.I. Sajjan drawing featuring the new defence minister as if he were a G.I. Joe toy.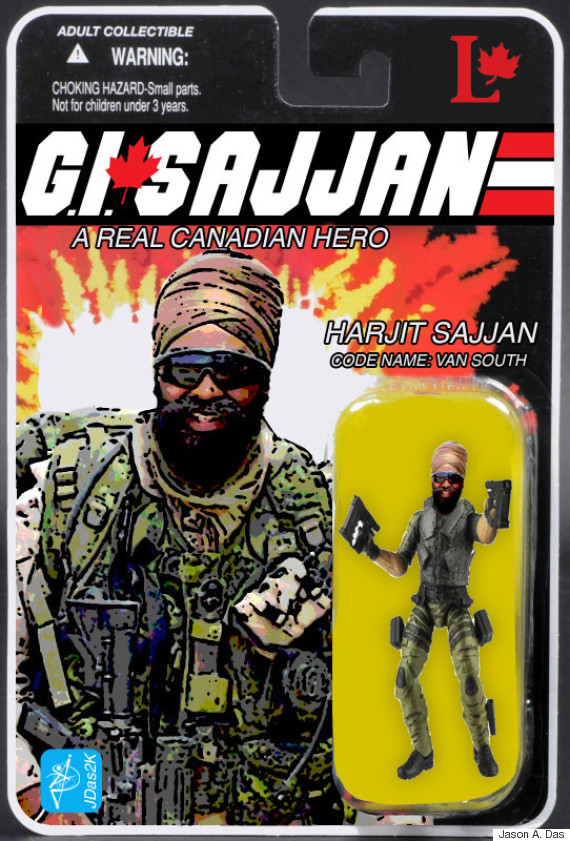 (Image courtesy Jason A. Das)
Sajjan joked that the doll's image is "really skinny."
"I was kind of disappointed with that. They could have bulked me up a little bit," he said laughing. One of his aides suggested the head might be a little big, making his body appear less so. "I know my turban is not that big. It's pretty compact."
Sajjan hopes people don't think he purposefully sought to create that image. "It's about doing your work and doing it in an honourable fashion, and, unfortunately, at times the type of work I had to do, whether it was in policing or in the military, you had to do it in a very extreme fashion and in a very aggressive way.
"I want people to know that I would rather focus on preventing conflict from happening around the world," he said. "But unfortunately at times it is necessary to do extreme things ... to try to bring a security situation back down where you can start engaging and de-escalating."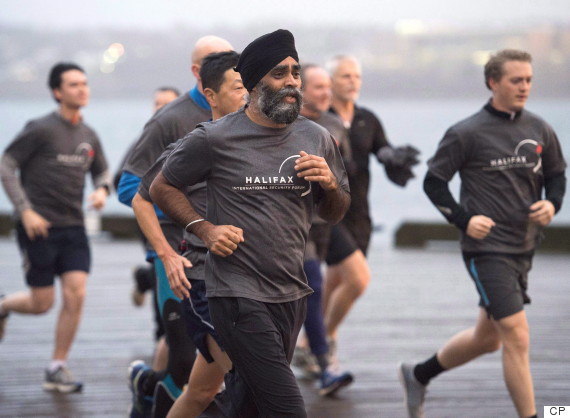 Defence Minister Harjit Singh Sajjan leads a five-kilometre run along the harbour on the third day of the Halifax International Security Forum in Halifax on Nov. 22, 2015.
After spending so many years in policing and intelligence gathering, Sajjan said he is still getting used to his very public job as a politician.
There is a lot of "political talk," Sajjan said. "It's hard for me to talk in that political realm, I know I'm a politician. But I think, Canadians, if you are honest with them, they will understand things. Whether it is giving them bad news or good news, or the situation, we can trust Canadians. They are smart enough … they can call bullshit very quickly."
Just as he did with policing in Vancouver and his military deployments, Sajjan said he is focused on building genuine rapport. "If you are just genuine, you'll never get caught in a lie if you are always telling the truth. If I don't want something to be said for security reasons, I'm not going to mention it, right? And people will understand that."
Growing up in India's Punjab region, four-year-old Sajjan wanted to be a truck driver. The farmers' fields in his village were plowed by oxen, "so seeing a tractor was a really cool thing. Anything mechanical was really cool."
A few years later in Canada — where his family immigrated when he was five — Sajjan said he dreamed of becoming a pilot.
"It's something that not everybody gets to do, and it was something my parents could be proud of."
Everything from Grade 10 onwards was geared towards becoming a pilot.
His high school co-op program and an accounting class were done at a private flying club. He got his medical certificate, attended ground school and took a few flight lessons. "They said I was pretty good. I actually took the plane off myself and almost landed it."
'I wanted to prove some people wrong'
He joined the military as a reservist, thinking he might join the air force or be a private pilot. But an experience during his military training changed his plans.
"I wanted to prove some people wrong when it was directly inferred that I should not be in [the military]," Sajjan told HuffPost.
At 15, after choosing a different high school than his peers to avoid falling in with the wrong crowd, Sajjan started wearing a turban. He was attracted to the "warrior culture of helping people," he said.
He started reading up on British Indian military history. "It just resonated, I thought, 'That is something that I can aspire to be.'"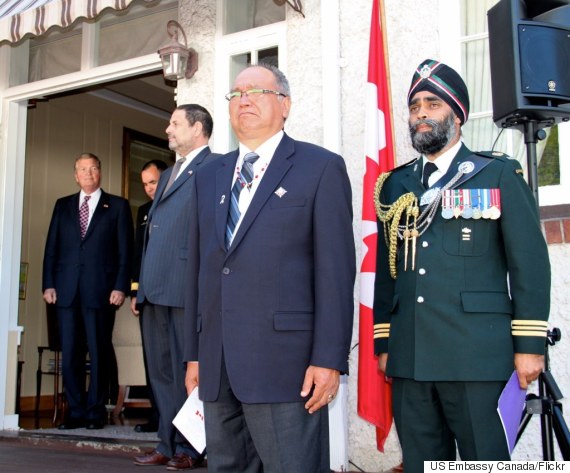 B.C. Lt. Gov. Steven Point, fore, and Harjit Sajjan, left, share the stage with U.S. Consul General Phil Chicola during a U.S. Independence Day celebration in Vancouver in 2011. (Photo: U.S. Embassy Canada/Flickr)
Despite his turban, Sajjan said, he hadn't faced racist comments "as much" because he'd grown up in a very multicultural part of Vancouver.
"But in the military, it was a new thing back then, so it came a bit as a shock to me, some of the racial issues back then."
He didn't like being told he couldn't do something the others could. The army pointed to some legitimate challenges: How would he wear a helmet or a gas mask?
"Helmet one was easy to deal with, but the gas mask one wasn't."
As part of his training, he had to undergo a two-week biological reconnaissance course.
"You have to wear the mask … in a tear-gas environment — you can't fake it, let's put it that way, because with the beard you can't get sealed."
So Sajjan, at 19, designed his own gas mask — which he has patented. He calls it the "N.B.C. hood" — a nuclear, biological, chemical hood that can work with any respirator. It seals around the neck and the gas mask goes over top. To deal with overheating, Sajjan said, channels circulate air when you breathe in and a cooling gel helps keep your head cool.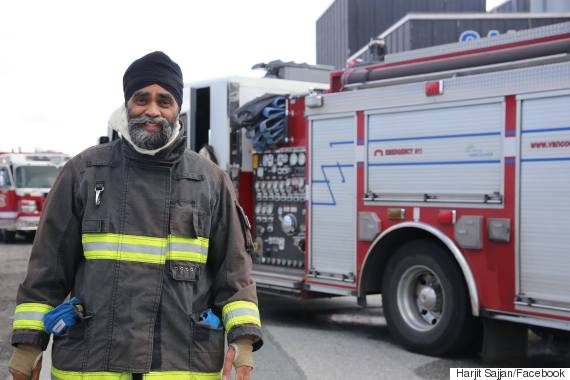 Harjit Sajjan stops for a photo in September at the Vancouver Fire & Rescue Services training facility. (Photo: Facebook)
Without prompting, Sajjan said his critics often suggest his military service was minor because he was in the reserves. "I know they are taking a little cheap shot while they are trying to be nice, 'Oh, you're part time.' If you look at how much full-time service I actually have, it's probably more than most people go through in a career unless you spent 20 to 35 years service. So I did considerable amount full time."
After his first tour of duty in Bosnia ended, Sajjan joined the Vancouver police in 1999. He worked his way up to detective-constable with the gang unit, specializing in organized crime. There isn't much written about his time with the department, although he told HuffPost he lived his life in the shadows.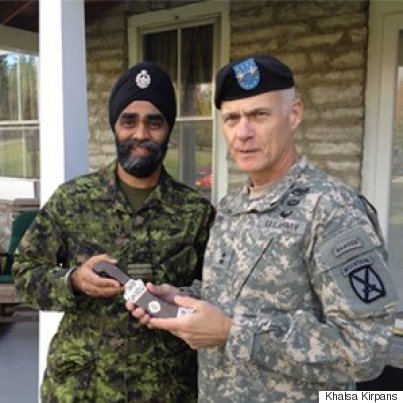 Harjit Sajjan presents U.S. Maj.-Gen. James Terry with a Sikh ceremonial kirpan in 2011. (Photo: Khalsa Kirpans)
In 2010, he left the department after he was asked by U.S. Maj.-Gen. James Terry to return to Afghanistan and serve on his command team as a special assistant.
In total, he participated in three tours in Afghanistan: in 2006, as a special intelligence officer; in 2009, as a special advisor to the commander of Task Force Afghanistan Brig.-Gen. Jonathan Vance (now the chief of the defence staff with whom he works closely); and in 2010 when he worked with the U.S. forces.
After leaving the police department, Sajjan spent time doing "semi-full-time work" commanding his regiment — the first Sikh to do so — took classes with the Joint Command Staff Programme at a Canadian Forces College in Toronto, and worked with the U.S. military debriefing them on his experience in Afghanistan.
Sajjan is married to a family physician, Dr. Kuljit Kaur Sajjan, and together they have two young children: a daughter named Jeevut and a son named Arjun.
He was planning to transition towards a consulting business as a human security specialist and was hoping to start his gas-mask business, he said, when the Liberals came calling.
Joined Grits 'out of necessity'
He joined "out of necessity," he said, because he didn't like the path the Conservative government was taking.
"In uniform, I supported wherever we needed to go. But divisiveness that was being created was … contrary to all my personal experiences of the past — of what I went through, the racial issues," he said. "Certain things I had heard in conversations 20 years ago, I was hearing again."
"When the leadership at the top talks in that way, it empowers other groups to say what the government is saying, 'Hey I'm not being racist I'm just bringing up viewpoints.'"
It isn't only that diversity is a nice thing to embrace, Sajjan said, it's also a powerful tool.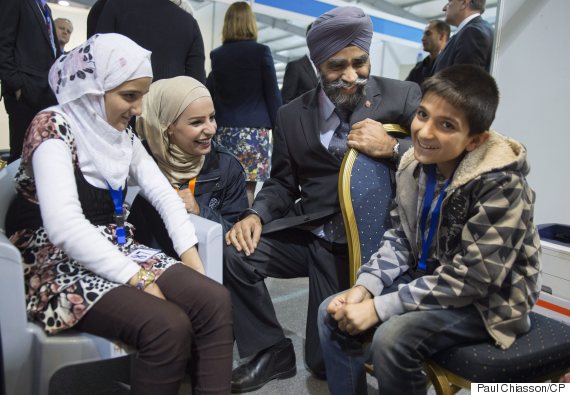 Defence Minister Harjit Sajjan chats with a Syrian refugee family being interviewed at a processing centre in Amman, Jordan, on Nov. 29, 2015. (Photo: Paul Chiasson/CP)
"Everything I did in Afghanistan, all the success that people look at me for, it was about communicating with people. Whether it is here or whether you do it overseas … if you focus on building genuine rapport, it's the people who give you all the information that is necessary for you to figure things out," he said.
"Whether it is breaking a case in Vancouver, whether it is homicide, break and enter, or very high-level organized crime files, it's your connection with the community that is golden for you to do this type of work."
Instead of reaching out to Muslim communities, inspiring them and giving them confidence, Sajjan said, the Conservatives played politics.
"When a community feels that they are part of society, they will want to protect it more than most people."
"When a community feels fearful, it's not that they are not willing to help, it's that their eyes and ears are not looking at the nuances, and looking outward, they are too busy looking inwards, trying to protect themselves and their family and their community.
"No one walks around with a terrorist sign on their back that [says] 'I'm going to commit a crime.' What happens is the subtle nuances," he said. "This person is not talking in the way that they used to, or somebody from a different community comes in and something is off about this person — it is those little nuances and the relationship that you have with the communities that allows you to piece those little bits of information together to break the case.
"When a community feels that they are part of society, they will want to protect it."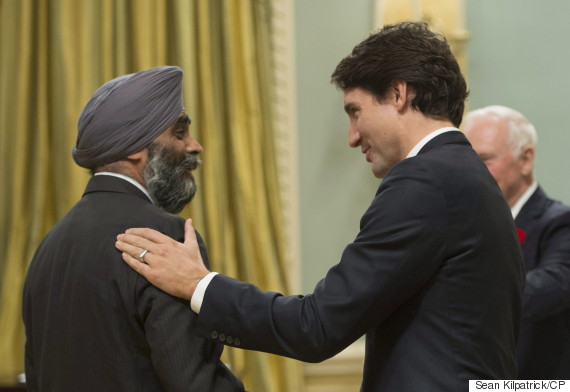 Newly sworn-in Minister of National Defence Harjit Sajjan is congratulated by Prime Minister Justin Trudeau at Rideau Hall on Nov. 4, 2015. (Photo: Sean Kilpatrick/CP)
Sajjan insists the Liberals won't shy away from military engagement.
Although his ministerial mandate letter is focused on renewing Canada's commitment to United Nations operations, and specifically refers to peacekeeping missions, Sajjan suggested that Canada might be more active in hotspots around the world.
"If somebody can find a place where we can do traditional peacekeeping with two sides have agreed upon and we can enforce a peace accord, I would love to be able to look at those options. Unfortunately, those threats have changed," he said. "That mandate letter is focused on what we need to achieve — which every country should need to achieve. How to do that — it will take the entire spectrum of operations from full kinetic right down to diplomatic and development work as well. We need to be prepared to be a part of that and we will be.
"I want Canada to take a leadership role in conflict zones around the world where we use the subtleties of our resources, where we can prevent the tipping points in conflicts from going bad either keep it there or bring it back — I did this a lot in Afghanistan, and sadly it is not difficult to do; it is more difficult to figure out what is going on. You need to figure out the social fabric of each little region … but if you spend the time to do so, you can bring the solution of a lot of the problems are most of the time less kinetic."
"We have to be mindful when we make decisions at some very high levels that we are not going to create future problems of the world, even though right away it might look like it is the right thing to do."
Sajjan said he is particularly concerned with radicalization.
"The real threat to me is … ISIL's ability to attract and recruit people for their fight. If you shut that down or reduce it, then you have something," he said. "But I think that as we move forward, we have to be mindful of what kind of decisions and actions we are taking to prevent disasters like this from actually happening."
The international community, Sajjan suggested, needs to get better at identifying the root causes of many radical organizations.
Unless you can figure out how to eliminate a threat by getting to its causes, he said, the threat will continue and you need to be able to predict where it may go. Unless you fill the void left by eliminating one threat, he said, "some other radical organization will come and fill the void for you.
"That, we have seen repeatedly. Libya is one of them or the Arab Spring awakening. Great people started it, but what happens when all of a sudden the radicals come in and push them aside because they have no power base? Boom, that is what happened....
"We have to be mindful when we make decisions at some very high levels that we are not going to create future problems of the world, even though right away it might look like it is the right thing to do."
Small problems can be headed off
Those are some of the concerns he no doubt has about Syria.
Sajjan doesn't mince words. He believes president Bashar al-Assad must go.
"Given how many people he has killed, it would be extremely difficult [for Assad] to be in any type of future for Syria," Sajjan said, "but that transition has to be again looked at in a responsible manner. It is not just about removing him, but [also about] the people on the ground, the civilians, making sure that it is done in a responsible manner and whatever mechanism comes into place is going to provide that stability."
Most problems start out small and can be defeated if addressed early, Sajjan suggested.
"Most of the big conflicts that we are dealing with as part of coalitions all start at a smaller size, and usually the indicators are the same. If we don't start caring about these things we are going to be dealing with this continuously."
Also on HuffPost
Harjit Sajjan: Canada's 'Badass' Defence Minister