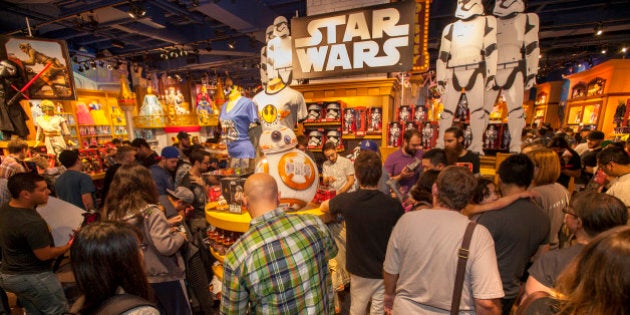 Ryan Johnson's Star Wars collection outgrew his small house in Moose Jaw, Sask., long ago.
So, he built an addition.
Now the married father of two can walk from his kitchen into his "Star Wars man cave," as he calls it.
Johnson, 42, owns 25,000 unique Star Wars items, or nearly 40,000 items if one counts duplicates, and he's adding new merchandise from the sci-fi franchise's latest installment, Star Wars: The Force Awakens, which opens this Friday.
He estimates his collection is worth nearly $500,000.
Johnson, a water treatment plant operator, has shown it to friends and family over the years but never displayed the collection to the media, until now.
Like most Star Wars collectors, Johnson's fascination began when he was just a little boy.
At age five, he says he was devastated when his family moved cities.
"You're a little displaced, you're not feeling yourself," Johnson said. "So my mom bought me a Stormtrooper figure. That started everything."
He began collecting the toys before he saw the movie.
In 1980, he had his tonsils removed and his father treated him with a trip to the movies to see both Star Wars and The Empire Strikes Back. That clinched it.
His obsession with Star Wars began.
"It's the possibility, it's imagination, it's all the places they went that were unique and different," Johnson said.
Today, Johnson's collection includes 3,000 action figures, 1,250 miniatures, 16,000 trading cards and 250 Lego sets, among other things. Johnson knows most of the collectors in Canada and believes his collection is the largest, though it is only a fraction of the world's largest which has some 300,000 items
As he toured CBC's camera through his personal museum, he pointed to Star Wars figures in sealed packages mounted high on his wall, far away from the fingers of his two small children or curious visitors.
He calls himself a "completist," which is collector jargon for someone who obsessively strives to obtain every item of a particular set — such as all the action figures released in 1977.
"To me, it was 'You can't have one if you can't have them all, including all the variants,'" Johnson said.
He is most proud of his obscure items.
He holds up to two discontinued trading cards in plastic cases: one is a 1978 card that appears to show genitals on C-3PO, another shows Yoda worshiping another Yoda.
"[George] Lucas decided that Yoda shouldn't be considered a religious figure, so having Yoda praise another Yoda wasn't a good idea. So he destroyed most of these," Johnson said. "It's one of the most sought after, and hardest to find."
Johnson has been married to his wife, Carla, for five years. She still remembers walking through the door to his Star Wars room for the first time.
"When I first saw it, I said, 'Well, you've outdid my grandmother's salt and pepper shaker collection," she said.
These days, she doesn't blink an eye when another package arrives at the door. She also jumps into debates over characters and plot development.
"Now I know enough [about Star Wars] that people roll their eyes at me," she said.
The couple even had Star Wars bobble-head versions of themselves for the top of their wedding cake. Carla appeared as Princess Leia, of course.
Johnson has a monthly budget of about $1,000 to spend on Star Wars toys and collectibles.
He admits that insurance premiums are too expensive, so he's armed his house with alarm systems and steel doors. He shudders to think what would happen if he lost it all in a fire.
"To go back and re-buy this stuff, you'd have to win the lottery."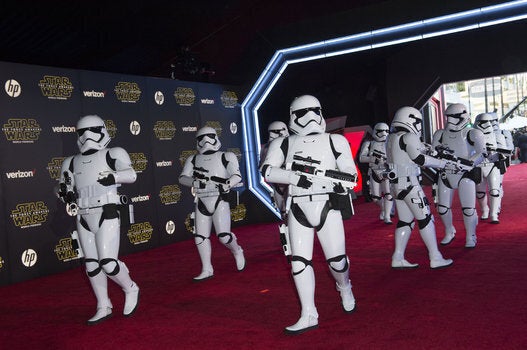 'Star Wars: The Force Awakens' Premiere