Father Christmas wants you to finally commit to binge watching "Narcos." But before you do, Netflix came up with a clever craft to show they have their subscriber's back — by making something high-tech for their feet.
That's right. Some brilliant PR mind envisioned socks that automatically pause your show the moment your drift off into sleep two, three or five episodes in.
Because it's the end of 2015, dangit. "Sometimes a show is so good, you just can't stop. And the next thing you know, zzzzz," the company says.
So to promote their smarty-socks idea, the Netflix released a video Tuesday (you can watch it above).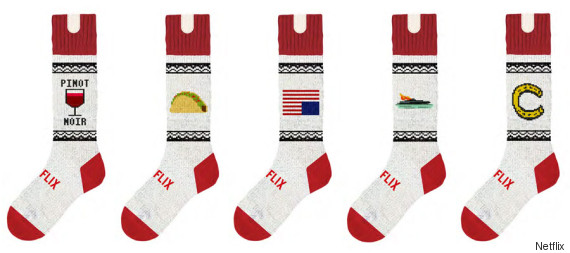 But frankly, the video isn't really helpful to those serious about knitting and soldering themselves some smart socks.
A full step-by-step tutorial, and knitting patterns, can be found here.
How do they work exactly? Let Netflix explain the science and tech:
We've based our sleep detection system on a popular method called actigraphy. An accelerometer detects when you've stopped moving for a prolonged period of time and triggers a signal to your TV that pauses Netflix. When it detects that you've dozed off, an LED light in the cuff of the sock flashes red, warning that the pause signal is about to be sent to your TV. Any motion will stop it from firing.
It's an invention that gifts malcontents tired by surprise confrontations with that binge-shaming "Continue watching" popup with a cozy solution to keeping their shows running with no interruption.
So if you know anyone who's prone to the binge sleeps or if you're a crafty soul in need of a holiday project, here's a double-serving solution to keep busy now in the name of saving precious rewind time later.
It's a wonderful life, isn't it?
ALSO ON HUFFPOST:
Follow Huffington Post Canada Style on Pinterest, Facebook and Twitter!