WINNIPEG — Tears flowed at the Manitoba legislature Thursday as an isolated reserve under one of the country's longest boil-water advisories received a lifeline to the outside world.
Erwin Redsky, chief of the Shoal Lake 40 First Nation, called the announcement of a $30-million all-weather road to connect the reserve to the mainland "a historic day for my community."
Redsky said the land used a century ago during construction of an aqueduct to carry fresh water to Winnipeg belonged to the reserve on the Manitoba-Ontario boundary and was taken "without our permission."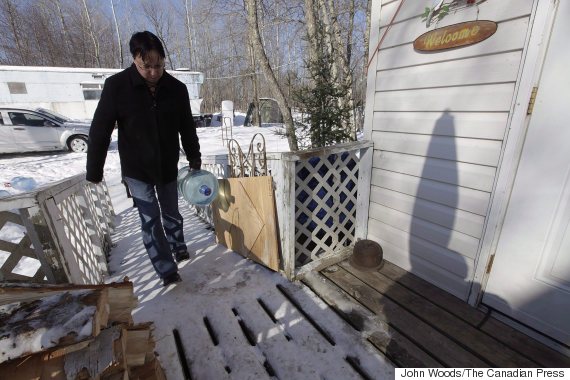 Ashley Green, a resident of Shoal Lake 40 First Nation, carries a 20-litre water container into his home. (Photo: John Woods/CP)
But he also acknowledged the three levels of government that are coming together to finally build what reserve residents have dubbed their "Freedom Road.''
"There is no need to dwell on the mistakes of the past,'' he told officials and residents gathered at the Manitoba legislature. "They are ... well documented.
"We need not dwell on the past, but it's important that we acknowledge and honour those who have brought us to this present opportunity for reconciliation.''
People living on the reserve now must use a treacherous ice road in the winter and some have died falling through the ice. In the summer, the First Nation depends on an aging ferry, but the vessel failed government inspection this year.
Health-care workers and ambulances won't risk going to the community and children have to leave the reserve to continue their education past Grade 8.
The community has been under a boil-water advisory for 18 years. A water treatment plant is prohibitively expensive, as are housing and sewer upgrades, without a road to transport the necessary equipment.
Redsky said those who paid the "supreme price" of living on an isolated island should be honoured — "all those who were lost just trying to get home."
The former Conservative government refused to commit to help fund construction of a road, despite willingness by Manitoba and the City of Winnipeg to split the cost three ways.
However, the Liberals promised during the recent federal election campaign that the Shoal Lake community would get its road.
"Today we welcome and honour Indigenous Affairs Minister Carolyn Bennett who has restored Canada's role and is carrying an important and new federal commitment and shared vision into our circle," Redsky said.
ALSO ON HUFFPOST:
Residential Schools: A Photo History