For Calgarians, there are three things that come to mind when thinking about the 1988 Winter Olympics. Polar bear mascots "Hidy and Howdy" and crowd-favourite competitor "Eddie the Eagle."
The bespectacled underdog is the subject of the upcoming biopic "Eddie the Eagle," set for release in 2016.
The film follows Michael "The Eagle" Edwards (played by Taron Egerton) as he follows his dream to be the first entrant from Great Britain to compete in Olympic ski jumping.
The trailer shows the athlete jumping at Calgary's Canada Olympic Park, the venue for the '88 games, but eagle-eyed viewers might notice that something's slightly off.
The jump features tree-covered mountains in the background, while the actual venue where the games were held is located inside the city, just a short drive from downtown (where, you might have guessed, there are no mountains).
According to IMDB, the movie's ski-jumping scenes were actually shot in Bavaria, Germany.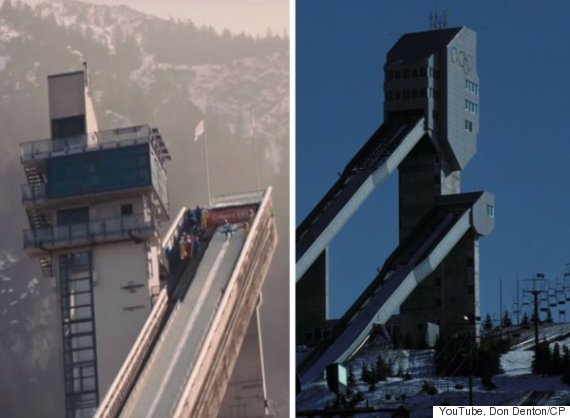 Canada Olympic Park during the 1988 Winter Olympics as shown in the movie, left, and in real life, right. (Photo: YouTube, Don Denton/CP)
Edwards told the BBC he's seen "about 70 to 80 per cent" of the film, and "only about five per cent of it is true."
While Edwards wasn't exactly a world-class jumper, he endeared himself to crowds with his dogged optimism. His farsightedness meant he had to wear thick glasses while competing, which would often fog up, according to the Calgary Herald.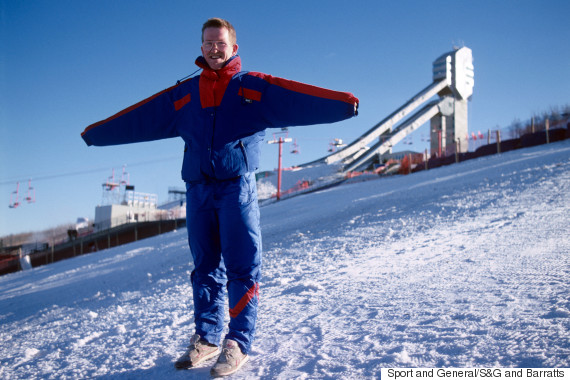 Great Britain's top ski jumper Eddie "The Eagle" Edwards takes a break at Canada Olympic Park in 1988. (Photo: S&G and Barratts)
Why "The Eagle"?
Edwards' nickname was actually a snarky reference to his jumping style. The skiier was self-taught and trained with borrowed, ill-fitting equipment, according to CBC News.
Frank King, head of the Olympic Organizing Committee, famously mentioned Edwards in the closing speech of the Games.
"You have captured our hearts. And some of you have soared like eagles," King said, according to The Guardian.
Like Us On Facebook

Follow Us On Twitter

Also on HuffPost
Vancouver Olympics Closing Ceremony