LAS VEGAS — The Miss Universe contestant from the Philippines is this year's winner but for one brief moment Sunday evening, it appeared as if it might be a repeat win for Colombia.
Colombia contestant Ariadna Gutierrez Arevalo was already wearing the crown as this year's Miss Universe winner when host Steve Harvey returned to apologize.
Harvey says it was his mistake and that he would take responsibility for not reading the card correctly that named contestant Pia Alonzo Wurtzbach this year's winner and Colombia the first runner-up.
A mystified Wurtzbach appeared stunned as she walked to the front of the stage alongside the crown-wearing Arevalo before last year's Miss Universe from Colombia removed the crown and placed it on Wurtzbach's head instead.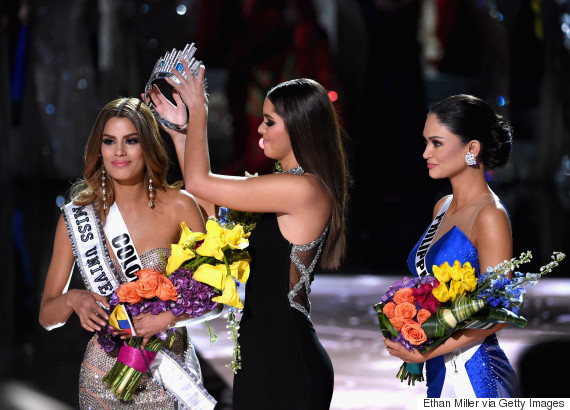 Ariadna Gutierrez, left, has her crown removed by Miss Universe 2014, Paulina Vega. The crown was then given to the rightful winner of Miss Universe 2015, Miss Phillipines 2015, Pia Alonzo Wurtzbach. (Photo: Ethan Miller/Getty)
The competition started with women representing 80 countries between the ages of 19 and 27. For the first time, viewers at home weighed in, with their votes being tallied in addition to four in-person celebrity judges.
Harvey took to Twitter late Sunday night to apologize for the error:
I'd like to apologize wholeheartedly to Miss Colombia & Miss Philippines for my huge mistake. I feel terrible.

— Steve Harvey (@IAmSteveHarvey) December 21, 2015
Secondly, I'd like to apologize to the viewers at that I disappointed as well. Again it was an honest mistake.

— Steve Harvey (@IAmSteveHarvey) December 21, 2015
I don't want to take away from this amazing night and pageant. As well as the wonderful contestants. They were all amazing.

— Steve Harvey (@IAmSteveHarvey) December 21, 2015
NBCUniversal and Donald Trump co-owned the Miss Universe Organization until earlier this year. The real-estate developer offended Hispanics in June when he made anti-immigrant remarks in announcing his Republican presidential run.
That led Spanish-language network Univision to pull out of the broadcast for what would have been the first of five years airing the pageants and NBC to cut business ties with Trump.
The former star of the "Celebrity Apprentice'' reality show sued both companies, settling with NBC in September, which included buying the network's stake in the pageants.
That same month, Trump sold the organization that includes the Miss Universe, Miss USA and Miss Teen USA pageants to entertainment company WME-IMG.
Follow Huffington Post Canada Style on Pinterest, Facebook and Twitter!
Also on HuffPost