In an area of Canada where daylight disappears shortly after lunchtime, two men threw hot tea over and around them in hopes of capturing a picturesque ring of snow around a setting sun.
"Around 1 p.m. I jumped on my Ski-Doo along with my friend Markus and we drove 45 minutes up to the top of a nearby mountain where the light would hit the hills," photographer Michael Davies told The Huffington Post Canada.
Davies and his friend packed multiple thermoses filled with hot tea to prepare for the photo. With only a 2.5-hour window for sunlight, nothing was left to chance.
"I followed the temperature, I watched for calm wind, planned the shot and set it up," he said. "Even the sun in the middle of the spray was something I was hoping for."
And the money shot, one with the sun in the middle of the snow spray, was the one he walked away with.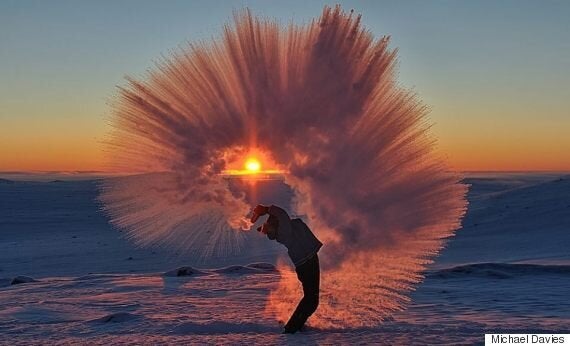 According to Wired, when hot water is thrown into the air in subzero temperatures, it creates a cloud of ice crystals because it's closer to being steam than when the liquid is cold.
The photo marks the beginning of a winter tradition of throwing hot water in freezing temperatures, which brings an annual reminder to exercise caution when throwing scalding liquid around in the name of making a viral video.
Davies lives in Pangnirtung, Nunavut, a small hamlet community that's home to just over 1,400 people. Located 50 kilometres below the Arctic circle, the area is prone to weather extremes, from 24-hour sunshine in the summer to bone-chilling -60 C wintertime drops (including windchill).
The Pontypool, Ont.-born and raised photographer has lived and worked in Pangnirtung for the past 10 years. Average temperatures in Pangnirtung have varied between highs of -25 C to -30 C recently.
"A little colder than normal," he said.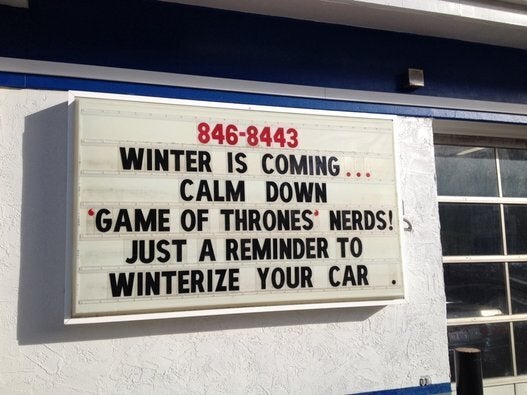 Slideshow: Funny Winter Signs