By now you've probably heard about Steve Harvey crowning the wrong contestant Miss Universe on Sunday evening. But there's another Miss Universe controversy that has to do with Miss Universe Canada, Paola Nunez.
On Wednesday, the 24-year-old beauty participated in the pageant's 'National Costume' round, wearing what many have deemed to be a "culturally insensitive" costume: a totem pole. (And here we thought Miss Universe Canada 2014's costume was bad...)
The offending outfit was designed by exclusive Dominican Fashion Brand, Keyther Estévez Studio, and featured plenty of feathers, an ornate eagle headpiece and a rhinestone-embellished, oversized totem pole loin cloth. (Note: Headdresses, eagles and totem poles are all sacred symbols to First Nations peoples.)
Miss Universe Canada @MUniCanada 2015 National Costume pic.twitter.com/2em2Fwk8d9

— UnivParadeOfBeauties (@UPofBeauties) December 20, 2015

Many took to Twitter to express their distaste for the costume, calling it "offensive" and "insulting" to Indigenous heritage.
A totem pole for a national costume? #wtf #canada #seriously #misscanada #missuniverse @ Ottawa,… https://t.co/MFfSpfAYpi

— Robb H YYZ (@ACFAROB) December 17, 2015
Miss Universe Canada wears cartoonish, tasteless & offensive *native* costume https://t.co/nbF7WlCd9X So appropriate for Trump-owned event.

— deBeauxOs (@deBeauxOs1) December 21, 2015
Last year's Miss Universe Canada costume was awful, but it was only offensive to the eyes. This year's-wtf? No. pic.twitter.com/XzNNkoCSFd

— WTF (@seriouslywhattf) December 21, 2015
Does anybody else find this horrible, or is it just me? #missuniverse #missuniversecanada pic.twitter.com/M7fO6ZGndA

— Lauren Kate (@reviewsbylauren) December 21, 2015
Yikes! That is embarrassing and truly insulting to Indigenous heritage. Great article btw! #MissUniverseCanada https://t.co/JJuQ0K0v4b

— Marta Tryshak (@MartaTryshak) December 17, 2015
Blogger Natalie Ast, of natalieast.com writes, "In a year where Canada has moved a step in the right direction towards the goal of reconciliation, an organization that strives to support the goals of education and charitable initiatives, this is deplorable and incredibly insensitive to our First Nations peoples."
And considering Nunez is not Indigenous, but rather from the Dominican Republic, her choice of costume is just bizarre. Add in the fact that it was created by a Dominican designer, and you've got the perfect example of cultural appropriation.
At this rate, we like the hockey costume better.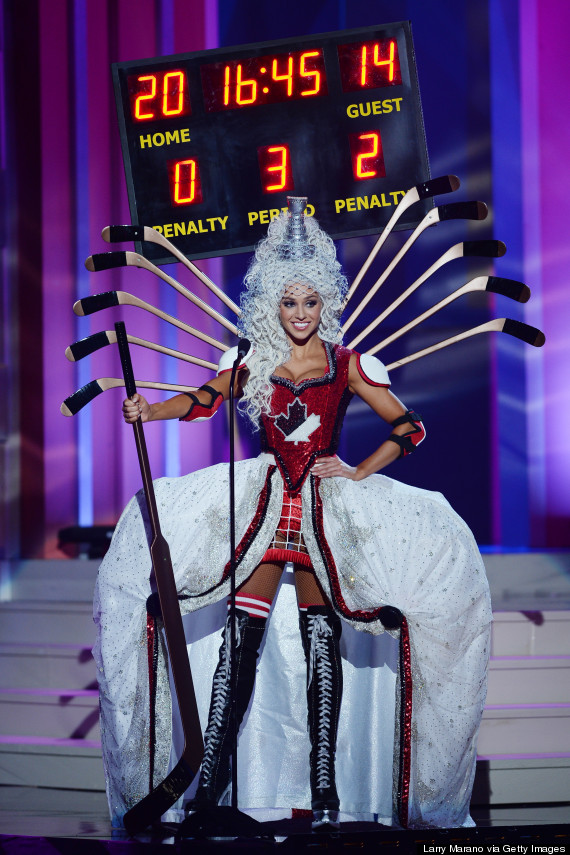 Follow Huffington Post Canada Style on Pinterest, Facebook and Twitter!
Also on HuffPost
Miss Universe 2015 Paola Nunez Valdez