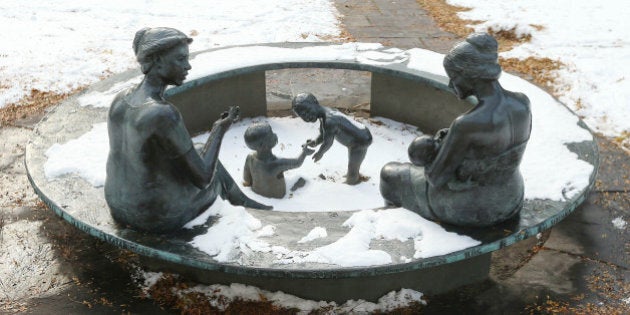 Every week, The Huffington Post Canada will be sharing the story of a patient at The Hospital for Sick Children (SickKids) and their family. By focusing on how a stay at the hospital affects not only the child with a diagnosis but their immediate family as well, we hope to put names and stories behind the brave faces that rely on SickKids every day. You can learn more about the families behind this series here.
Three days after Finlay's birth at a Halifax hospital, it was discovered he had a rare liver disease called biliary atresia that affects one in between 10,000 and 20,000 children. Inflamed bile ducts were allowing bile to build up and damage his liver, threatening death.
At 26 days old, Finlay had an operation called a Kasai procedure, but it was already too late. He would need a liver transplant. His parents, Stephanie and Travis, immediately uprooted their lives, leaving Nova Scotia's Annapolis Valley behind to move to Ontario so their son could be treated at The Hospital for Sick Children (SickKids).
Finlay's health deteriorated daily while they waited for a deceased donor, and his liver began failing. Then finally, good news: His mother Stephanie was a match. She got to give her son the gift of life two times in a row.
This is the story of Finlay's family in their own words.
Travis: It was sort of surreal, like you almost don't really process it in a logical way. It's not something where you sort of say, "Oh, he's sick." You're not really sad, you're not really anything. You just go through the motions, I guess. 'Numbness' is the best way I can describe it. Part of the issue there was we didn't know what it was. We just didn't know what was going to happen.
Stephanie: We were expecting a healthy child, so I was grieving the loss of that fantasy, I guess. It's horrible to say, but as a new mom you expect to be pushing your child down the street in the stroller with everybody coming up to you and saying "oh, look at the new baby" and doing all the newborn things that you imagine yourself to do with your baby. We didn't get that.
Grandma Janice (Stephanie's Mom): I thought they were very strong. They were like, "This is it, this is what we have to do." They were kind of in automatic mode like and, in front of us anyway, they didn't show, they didn't panic.
Grandma Leslie (Travis' mom): Your child has had a child and their life is falling apart, and we couldn't make it better.
Stephanie: It was probably a week or two after the first operation that we started thinking it would be a good idea to be closer to SickKids. Travis worked as a winemaker in Nova Scotia, so we thought we could always try to see if he could get a job in Ontario, where there's obviously a wine industry, as well. We weren't even thinking about what a big deal it was to move across the country at the time. It was really to give everything we could to our son to make sure he had the best possible chance of not just survival but quality of life.
Your child has had a child and their life is falling apart, and we couldn't make it better.
Travis: It was difficult to leave family and pack up and quit jobs and decide to move, but because it happened in a two-week period there wasn't really a whole lot of time to process it. It didn't really hit home until probably last Christmas when we were in this new house in Belleville that we really hadn't been in yet because we were in the hospital, and no friends, no family, no nothing around. That was when it became challenging to cope.
Grandma Leslie: We had moved out here to Nova Scotia before Finlay was born and we were looking forward to having them close by, but they had to be there. I went out to Ontario after they moved, they needed some help. They were exhausted.
Travis: I was born in Ontario and actually lived around the corner from SickKids in Toronto. I walked by maybe three times a day, and never once processed what it was, what it did. I had almost a feeling of guilt, knowing that I had spent so much time right there and had never given a second thought to what was going on inside 'till I needed it.
Stephanie: They started talking to us about a transplant right away, which we appreciated. There was no one trying to delude us into thinking he would get better. He needed treatment, and that was that. There was no delay. You don't realize what bedside manners really are until you're a parent of a sick child and you are admitted in the hospital. You are empowered to be an advocate for your child's care and to have that is unbelievable because, as you can imagine, having a child in hospital for so long, you often feel powerless.
Grandma Janice: If SickKids wasn't there, I don't think my grandson would be here today. It's a wonderful hospital. The nurses go out of their way to help people and make them understand what's going on. The doctors there are wonderful; there's a team and you have specialists of all kinds. I had never seen a hospital like that because we don't have that here where I live in New Brunswick.
Stephanie: It took about four days to do all the testing. I needed a liver biopsy to have the final say, and then that took a few weeks. On October 10 I got my biopsy results and they told me that same day that my liver was a perfect match. I could be a donor for my son.
Grandma Janice: We knew that if Stephanie was going to be a donor she needed her health. We helped out with Finlay, slept there during the night, Travis's mom and me. We took turns so Stephanie could have her rest because she needed her health.
We're not keeping [Finlay] in a bubble in any kind of way.
Grandma Leslie: On the day of the transplant, Travis was so torn, he wanted to be with Steph and wanted to be with Finlay and they were in hospitals just across the road from each other. That was really hard. So we stayed with Finlay so Travis could go back and forth. Finlay was the biggest concern, so don't take that the wrong way; but seeing his dad torn was difficult for me as his mum.
Stephanie: He actually has been great almost right from the get-go. His liver took immediately, he never suffered any rejection — knock on wood, of course — which is something most transplant recipients usually go through at some point. Apart from the few colds that are a little more intense and a little longer than for most healthy children, he's actually been fantastic. We're putting him into a daycare two mornings a week, and we go to playgroup. We're not keeping him in a bubble in any kind of way. Of course there are special precautions to take: washing hands frequently and making sure he's not putting anything and everything in his mouth, which is hard to do with a toddler, but we do our best.
Grandma Janice: Oh, he's wonderful. He's talking, he's walking, he's such a cheerful little boy. He loves books! He's always happy. We talk on Facetime almost every day so I get to see him that way.
Grandma Leslie: And thank heaven for technology. We see Finlay nearly every other day on Facetime, so we're still a part of that. We see the growth; we see what's happening on a daily basis. I would be lost without it.
Travis: I've never known anyone who was sick or has gone through this with a child, and we didn't have anyone in our friends and family that really understood. It was hard for us when we didn't have anyone to talk to about it, so we've tried to be those people for others that are in that position because I think it's really important.
We don't expect we'll stay here forever. We're going to try to get our lives back on the track they we on before. But for the time being, we're happy with our lives here and it hasn't been a negative move. It got us into a position where we could put Finlay's situation first, and it's worked out health-wise very well for him. We don't want to be any further than this from SickKids for a while. But the plan is to definitely go back home eventually.