Federal NDP Leader Thomas Mulcair appears to have avoided a lawsuit by apologizing to a Conservative senator for a campaign ad that alleged he was under criminal investigation.
Quebec Sen. Jean-Guy Dagenais released a statement last week saying Mulcair had 10 days to issue a public mea culpa for the "false and defamatory allegation" in the ad, or face his lawyers.
Dagenais took issue with a hard-hitting NDP spot, called "Enough," that highlighted several Tory controversies and infamously included footage of ex-MP Dean Del Mastro's so-called "perp walk."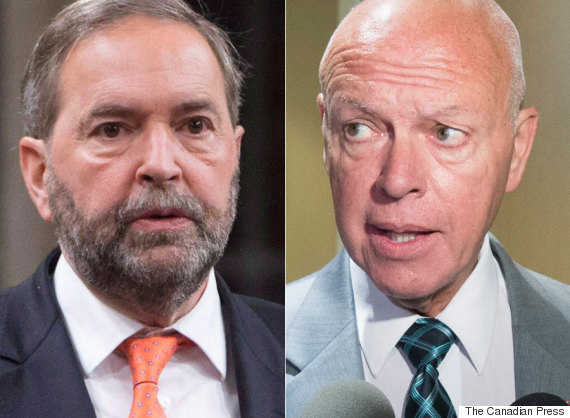 NDP Leader Thomas Mulcair and Conservative Senator Jean-Guy Dagenais. (Photo: CP)
The ad stated that one-third of the Senate was under RCMP investigation. A photo of Dagenais and 11 other Tory senators flashed on the screen.
"I am not, and never was, the subject of a police investigation," Dagenais said in his statement.
And it seems the NDP leader agrees.
On Monday, the senator released a statement saying Mulcair apologized through his lawyers, who were put in charge of resolving the dispute. Dagenais said in the release that he was able to prove that he was not the subject of an RCMP investigation.
"In apologizing for their client, Mr. Mulcair's lawyers explained that his allegations were based solely on 'public information,'" the release reads. "The documentation provided by Senator Dagenais clearly established that this information was false, incomplete or unsubstantiated."
Dagenais said he was satisfied with Mulcair's apology and "the timely resolution of this particularly hurtful affair."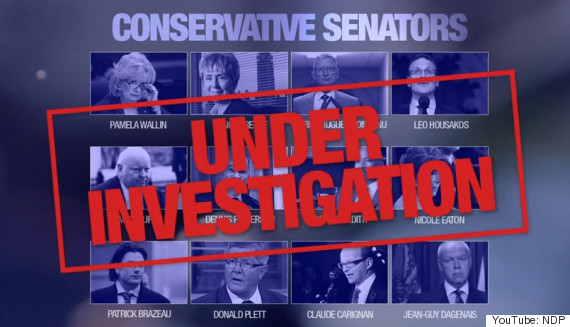 Screengrab of NDP's "Enough" ad. Dagenais can be found in the bottom right.
Dagenais was one of 30 senators whose expenses were flagged by Auditor General Michael Ferguson last June. Though nine files were immediately referred to the RCMP, it was later reported that the police would review the spending of all 30 senators.
In a letter to Dagenais, dated Dec. 17, Montreal lawyer James Duggan offered "sincere apologies" on Mulcair's behalf for leaving the impression among Canadians that he was facing an RCMP probe.
The letter ends with best wishes for the holiday season.
.@ThomasMulcair to #CPC Senator Jean-Guy Dagenais: Sorry I defamed you, also Merry Christmas. pic.twitter.com/cjBUilaBhw

— Althia Raj (@althiaraj) December 21, 2015
ALSO ON HUFFPOST:
Key NDP MPs Defeated In 2015 Election