TORONTO — A Canadian soldier who served two tours in Afghanistan is believed to have repeatedly stabbed his pregnant wife before they both fell to their deaths from an apartment building, Toronto police said Monday.
The bodies of Robert Giblin, 43, and Precious Charbonneau, 33, were found Sunday night outside the highrise in central Toronto where they lived together.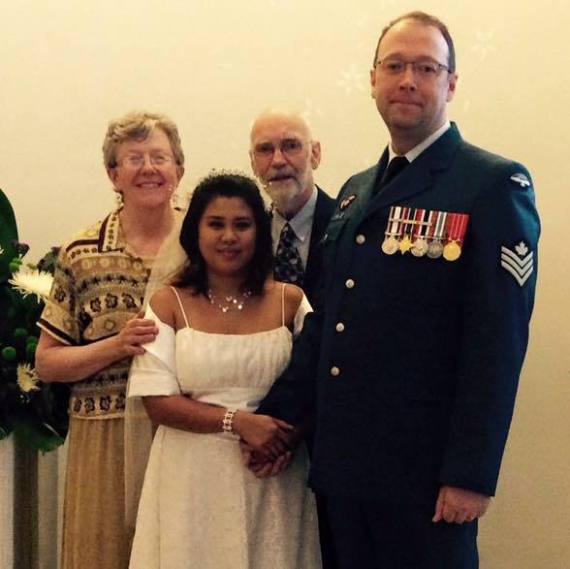 Robert Giblin and Precious Charbonneau (Photo: Facebook)
Police said Charbonneau, who was thought to be nine weeks pregnant, was stabbed multiple times before her fall.
"Investigators believe Robert Giblin was responsible for the homicide of Precious Charbonneau and are not pursuing any more suspects in this matter," police said Monday evening.
"The cause of death was multiple impact injuries consistent with fall from height."
Police said the couple were recently married.
According to Giblin's Facebook page, he and Charbonneau were married in mid-November. A photo from their wedding day shows Giblin in his military regalia holding hands with Charbonneau.
Giblin posted a photograph of the pair cuddling around 1:18 a.m. on Sunday, about 17 hours before police were called.
"Happiness is," Giblin wrote in a caption of the photograph.
The two also wrote open love messages to each other on Facebook over the past several months.
A member of Giblin's family reached by The Canadian Press said they were asking the media to respect their privacy at this difficult time.
"The loss of any soldier is devastating to the military community..."
The Department of National Defence said Giblin was a sergeant in the Joint Task Force Central based at the Denison Armoury in Toronto.
"The loss of any soldier is devastating to the military community and our thoughts and condolences go out to Sgt. Robert Giblin's family and friends," said DND spokesman Lonny Kates.
Giblin joined the Canadian Armed Forces in 1997, he said, was deployed to HMCS Regina in 2003, and was in Afghanistan in 2005 and 2007. Kates said Giblin was also an intelligence operator.
Some who knew Giblin and Charbonneau expressed their condolences online on Monday.
"Rob my Brother. We were just chatting when you down in Halifax. Joking how us two old dogs were finally getting promoted. You kept me sane on our 6As and the SDIAC,'' one man wrote on Giblin's Facebook page. "Thanks for all the good times Bro. I'm devastated."
Another posted "RIP old friend" on the same page.
On Charbonneau's Facebook page was a similar message.
"Rest in Peace Presha," one person wrote.