In the world of Harry Potter, cars can fly, owls can be mail carriers and Hermione Granger can indeed be black. J.K. Rowling says so.
The Internet was a frenzy yesterday when it was announced that the bookish wizard would be played by a black actress in the spin-off stage production of Harry Potter, "Harry Potter and the Cursed Child."
Swaziland-born Olivier award-winning actress Noma Dumezweni will be portraying Hermione in the London show, which is set to start this summer.
There was a mix of excitement and fury from some fans who either applauded the casting, and others who insisted that Hermione is white and was miscast.
Rowling, the author of the series, laid the matter to rest and tweeted that she never specified white skin.
This isn't the first instance of racist commentary when a black actor is cast as a literary character. There has been backlash against John Boyega, a Nigerian-British actor who plays a stormtrooper in the most recent installment of the Star Wars franchise. And when Amandla Stenberg was cast as Rue in the Hunger Games, there were fans who were just as incredulous.
Since the final Potter book was published, Rowling has answered inquisitive fans' questions and revealed more diverse details about its characters — most notably, that Albus Dumbledore was gay.
"Racebending" characters has also been popular in fan art for years, and there are plenty of Hermiones drawn as a woman of colour, often as a black girl. These fans and others have said the casting is just how they always pictured the brown-eyed, frizzy-haired intelligent witch. Writer Alanna Bennett told CBC News that the detail about Hermione being "muggle-born" and facing discrimination from "pure bloods" reads as an allegory for racism.
Still, some insistent Internet trolls searched Rowling's texts for evidence one way or another and found a passage from the third book that says "Hermione's white face was sticking out from behind a tree," which of course is also a common expression to show fear. Others pointed out she was also referred to as "very brown" in another excerpt from the same book.
Funnily enough, the author of the play, Jack Thorne, pointed out that Paul Thornley, who will play Ron Weasley, doesn't have red hair, but he's a "ginger in his soul." And Jamie Parker, who will play Harry, lacks his signature green eyes and jet-black hair. That hasn't seemed to spark quite the same protest.
Internet drama aside, Rowling has spoken, and Harry Potter alumni, including Matthew Lewis, who played Neville Longbottom, Jason Issacs, who played Lucius Malfoy, Evanna Lynch, or Luna Lovegood, Katie Leung or Cho Chang, and Emma Watson, who of course played Hermione, have either tweeted, or retweeted their support. It seems they're all on board.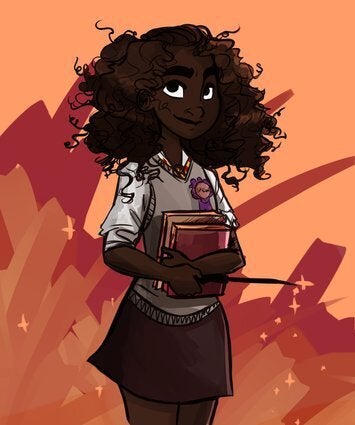 20 Racebending Pieces of Harry Potter Fan Art