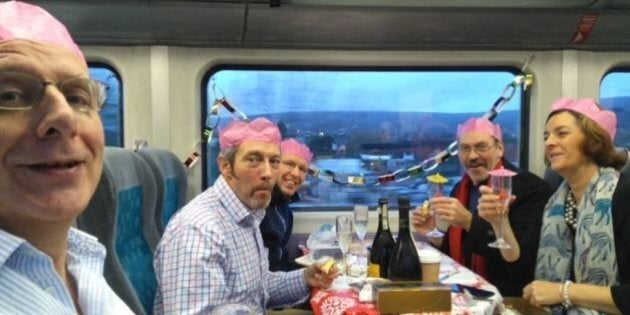 Morning commuters rarely talk to each other, let alone party together. But for a group of Welsh commuters, that couldn't be further from the truth.
Travelling from Abergavenny to Cardiff at 8:08 AM on Dec.18, a group of travellers threw themselves a Christmas party on the train, complete with prosecco, smoked salmon and sausages. They even decorated with paper chains.
"As we often spend 40 minutes a day travelling to work together, we thought 'why don't we have a Christmas party?" commuter Chris Lines told ITV.
Lines went on to explain that the party was only held going into the city, as the train ride at the end of the day is quite different.
"The train home is dominated by city dwellers. I don't think they have the same spirit as us Abergavenny lot."