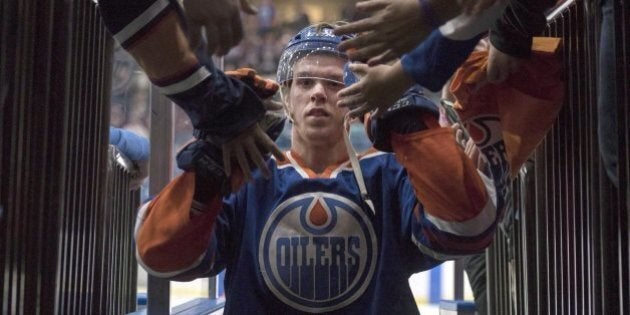 EDMONTON — It can be found on the odd wind-worn lamppost on downtown streets of Edmonton — a loonie-sized sticker that is equal parts idolatrous and sacrilegious.
It's the Oilers logo with the oozing O-I-L-E-R letters replaced with others: McJesus.
Edmonton Oilers rookie phenom forward Connor McDavid is expected to return from a cracked clavicle in either late January or early February, but he has already made a transformative impression on a hockey-loopy city that hasn't beheld a playoff team for a decade.
Walk into Jack Jensen's sports memorabilia store in West Edmonton Mall and there's a full Connor McDavid photo display underneath the cash register.
On the walls are framed pictures of McDavid, and McDavid's first NHL goal.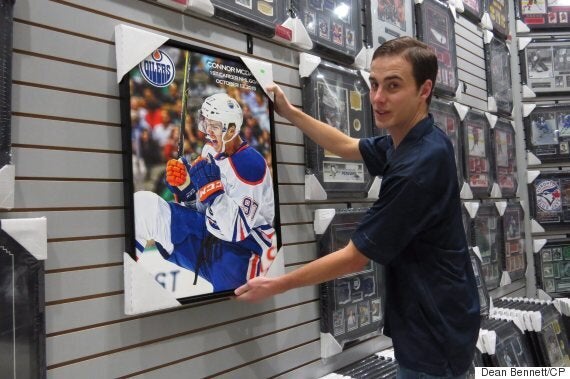 Jordan Forsythe, manager at West Edmonton Coin and Stamp, hangs up a Connor McDavid print for sale in Edmonton on Dec. 14, 2015. McDavid memorabilia has been the top seller since the teen from Newmarket, Ont., was drafted by the Oilers this summer, part of a McDavid led resurgence of hockey interest in the Alberta capital. (Photo: Dean Bennett/CP)
There are packs of Connor McDavid cards and autographed Connor McDavid jerseys. (The signed jersey is yours for $649.95).
McDavid, said Jensen, has reinvigorated sales for all things Oiler at his West Edmonton Coin and Stamp shop.
"Connor has been the lead seller at this point,'' said Jensen.
There's lots of Connor merchandise selling, whether it's stickers or autographed stuff.
"Everything's selling for Connor.''
The Connor biz has been booming ever since the Oilers won the right eight months ago to select him first overall in the NHL draft.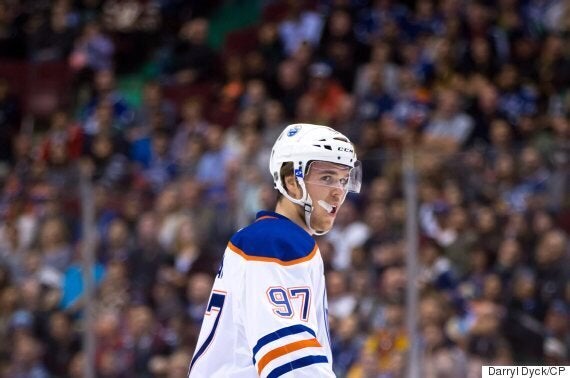 Edmonton Oilers' Connor McDavid skates during a break in play during the first period of a pre-season NHL hockey game against the Vancouver Canucks in Vancouver, B.C., on October 3, 2015. (Photo: Darryl Dyck/CP)
The 18-year-old from Newmarket, Ont., has not disappointed.
The centre hailed as the next Sidney-Crosby-Wayne-Gretzky needed just four NHL games to figure things out.
After just one goal in those first four games, he totalled 12 points in the next nine to take over as the team's top scoring threat.
His impact is everywhere in city where hockey is not just a sport, it's geography where north-end commuters take Mark Messier Trail and get to the rink via Wayne Gretzky Drive.
Fans flew in from remote places like Vancouver Island and Yellowknife to attend McDavid's first home game.
Oilers ticket prices on the secondary market soared 131 per cent on news of his arrival, according to StubHub.com.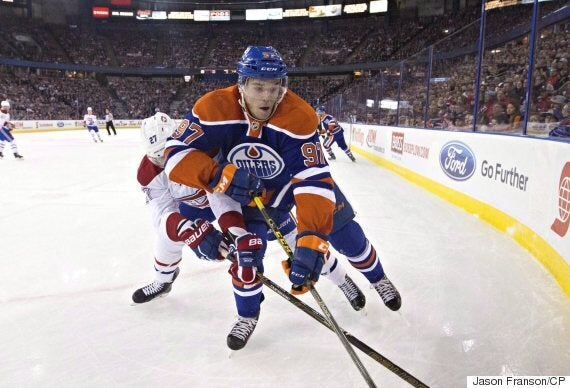 Montreal Canadiens' Alex Galchenyuk (27) and Edmonton Oilers' Connor McDavid (97) during first period NHL action in Edmonton, Alta., on October 29, 2015. (Photo: Jason Franson/CP)
The ripple effect goes beyond the city.
Fans chanted McDavid in the closing notes of the national anthem at an Oilers pre-season game in Saskatoon.
NHL broadcaster Rogers built up an ad campaign around McDavid getting the lowdown from Messier on Alberta's rolling plains and soaring mountains.
The local sports radio station delivers regular tongue-in-cheek Connor McUpdates, such as the one after the Oct. 18 Vancouver game: "Connor dipped his feet in the Pacific Ocean for the first time, and then explained the difference between the Atlantic and Pacific oceans to (Oilers forward) Luke Gazdic.''
The Oilers organization has had to deal with a fan interest not seen since the Boys on the Bus Stanley Cup years of the 1980s.
When the team selected McDavid in June, fans filled the lower bowl of Rexall Place to cheer on the announcement.
When McDavid and the other Oiler rookies played the University of Alberta Golden Bears in their annual fundraising scrimmage in the middle of September, the event had to be moved from the Bears' 2,700-seat rink in order to accommodate 14,000 fans who packed Rexall Place.
"This is a special time... we're at the front end of what we hope is going to be a very exciting era for the organization.''
The media crush at his first training camp became so overwhelming, handlers broke it up into two scrums: print people here, radio and TV types there.
"(McDavid's) come in and really committed himself to being a great pro in the NHL and doing all the things he needed to do to be a great teammate as well,'' said Tim Shipton, the Oilers vice-president for communications.
"You walk the concourse at Rexall Place and you just see how excited people are and you know that the fans also understand that this is a special time, and that we're at the front end of what we hope is going to be a very exciting era for the organization.''
The nucleus of that new era is a new home. The Oilers are moving into a new $480-million downtown rink starting in the fall of 2016.
With the Oilers playing better of late, McDavid could find himself in meaningful games when he returns. And the spotlight will again ratchet up from glaring to blinding.
So far, he has handled the attention with aplomb, not surprising perhaps for the player who has been on the national radar since his junior days with the Erie Otters.
"It's something I have to get used to,'' he told reporters when asked again about the attention as the season began.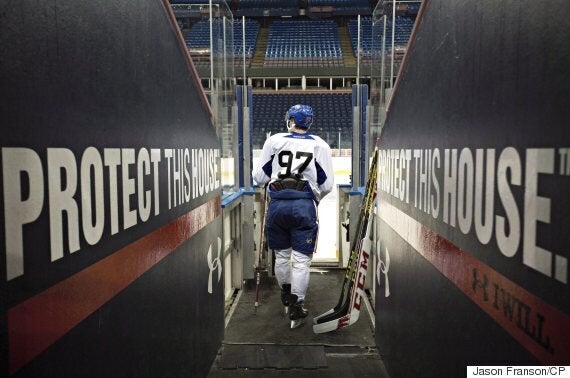 Connor McDavid walks out to the ice for the Edmonton Oilers orientation camp in Edmonton, Alta., on July 2, 2015. (Photo: Jason Franson/CP)
Revealingly, he also had advice to young players going to the world junior hockey championships in Finland.
Shrink your world, he urged them via a scrum of reporters in Toronto earlier in December. Try not to read everything they say about you on the Internet and on Twitter.
"Try and make the world you live in as small as possible,'' he said.
For McDavid, that might be the biggest challenge of all.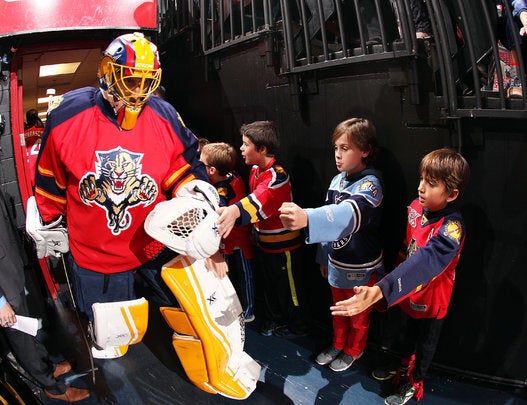 NHL Teams: What They're Worth