TORONTO — The military friends of a man who police say killed his pregnant wife before killing himself are struggling to come to terms with the horrific incident.  One friend, who doesn't want to be identified for fear of upsetting both families, says he can't square the Robert Giblin he knew for nearly two decades with the man police said stabbed his new bride, Precious Charbonneau, in their apartment before throwing her over the balcony to her death on Sunday night. The friend told The Canadian Press he met Giblin in 1999 when they were just beginning their military careers and deployed to the Persian Gulf on HMCS Regina. He says Giblin and Charbonneau got married at Toronto's City Hall in mid-November and were madly in love.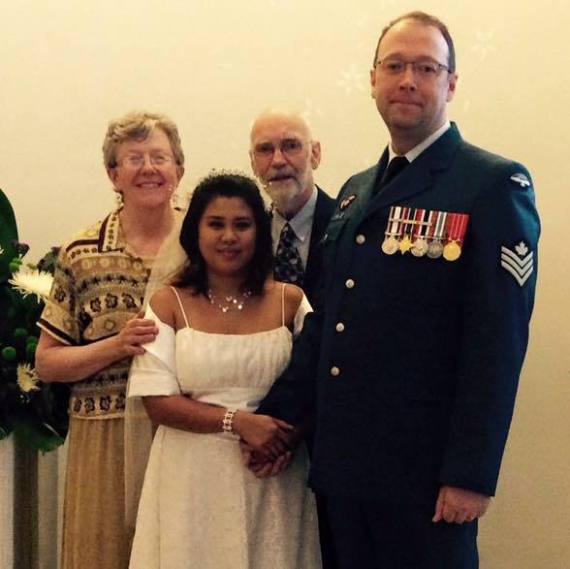 Robert Giblin and Precious Charbonneau (Photo: Facebook)
The friend says Giblin was in good spirits when they last spoke shortly after his wedding. He says Giblin seemed ecstatic to have found love as a 43-year-old. "He found what was his perfection, he was going to have a baby and he said his life was complete," the friend said in an interview from the Ottawa area. "But this, there's no world in which I can figure this out. When the puzzle pieces don't fit, you try and make ends of it and when you can't, your mind just goes in circles and circles." He said Giblin had a tight group of military friends who have been talking to each other to answer questions that may never be answered. The talk of Giblin suffering from post-traumatic stress disorder seems just that.
"These were two people who were sickeningly in love, getting ready for Christmas and getting ready for a baby."
"There's no way he has PTSD," the friend said. "We've been going over that and surely all of his friends couldn't have missed that .... But with (Charbonneau), I've never seen him so happy. You almost wanted to make fun of him for all the (content) he was putting Facebook because it was so gushy." Giblin posted "Happiness is" on Facebook along with a photo of the couple snuggling just 17 hours before police were called to their apartment building. His friend said Giblin enjoyed his career in the military, first with the Navy before switching to the Air Force where he eventually became an intelligence operator. He said he handled his two tours in Afghanistan with aplomb and never appeared to suffer any ill effects from the wars. "These were two people who were sickeningly in love, getting ready for Christmas and getting ready for a baby," he said. "He was happy last time I spoke with him, but I guess we didn't know everything about him."
Also on HuffPost:
Mental Health: 7 Signs That May Signal PTSD