VANCOUVER -- A man who defied a murderous dictatorship, escaped his native El Salvador under death threats, and then fled into church sanctuary in British Columbia under the former Conservative government has finally been handed his freedom.
Jose Figueroa will step through the doors of the Langley, B.C., church on his 49th birthday on Wednesday to reunite with his wife and three children two years after taking refuge.
Immigration Minister John McCallum has granted the man an exemption to remain in Canada on humanitarian and compassionate grounds.
A letter from Citizenship and Immigration Canada sent to Figueroa said his permanent residence application can now be processed. It comes 18 years after he arrived.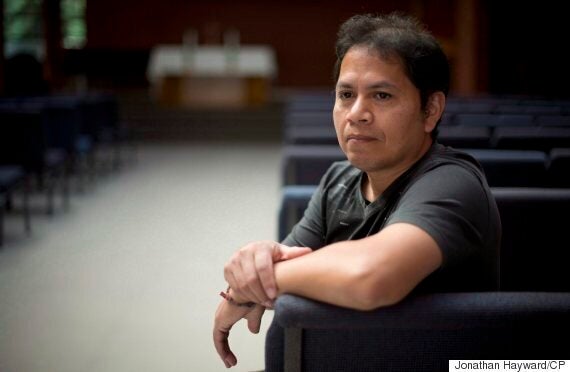 Jose Figueroa, pictured in the Walnut Grove Lutheran Church on Oct. 4, 2013. (Photo: Jonathan Hayward/CP)
"I don't know how I'm going to do it, to get out and finally breathe some freedom -- liberation,'' Figueroa said Tuesday in a telephone interview from Walnut Grove Lutheran Church.
He received notification on Monday that the Canadian Border Services Agency had cancelled an arrest warrant and a deportation order that prompted him to seek sanctuary in October 2013.
Figueroa has been living B.C.'s Lower Mainland since 1997, working and raising his family including a son who has autism. He mounted a series of legal challenges until a May 2010 finding that he was inadmissible to Canada.
Immigration officials reversed his previous permission on the basis that Figueroa had admitted to political activism in a revolutionary movement during a civil war in his homeland in the 1980s.
"I don't know how I'm going to do it, to get out and finally breathe some freedom -- liberation."
Officials said he had problematic links to the Farabundo Marti National Liberation Front, or FMLN, which they stated was believed to have engaged in terrorism.
The FMLN, however, had opposed a U.S.-backed military government that sent death squads to terrorize the people. FMLN and was never listed as a terror entity by Canada's federal government.
A protest campaign called "We are Jose'' was launched by hundreds of supporters, which included MPs, academics, student groups, the vice-president of the Salvadoran National Assembly and even actor Martin Sheen.
But successive federal Tory immigration ministers refused to grant his application for relief.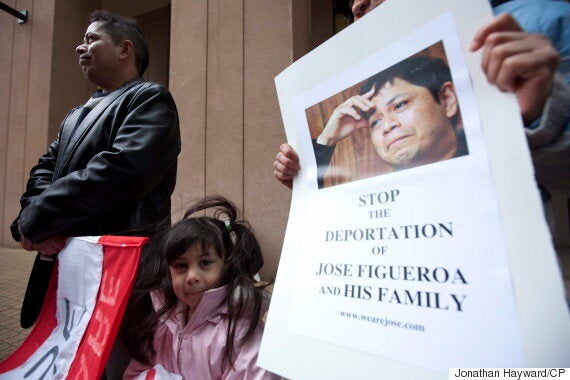 Figueroa's daughter stands at a protest against her father's deportation order in Vancouver, B.C. on March 18, 2011. (Photo: Jonathan Hayward/CP)
"Jose was president of the student union, he wasn't a war criminal,'' said Sasha Wood, a longtime supporter who raised awareness about Figueroa's case.
She can't help but wonder why the previous government was "so mean-spirited.''
"We banged on every single door, we had people going to the minister, delivering letters themselves personally, and nobody would budge on it.''
Immigration-policy analyst Richard Kurland, who watched the case for five years, said it likely took one stroke of the new minister's pen to resolve Figueroa's plight.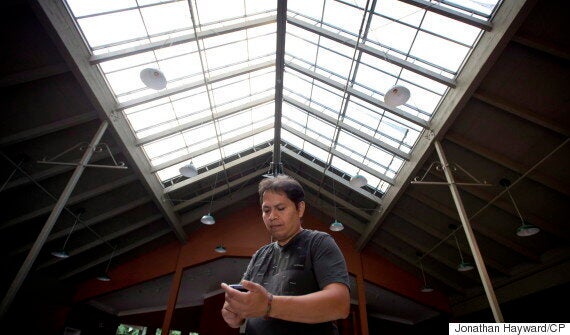 Figueroa stayed inside Walnut Grove Lutheran Church for over two years. (Photo: Jonathan Hayward/CP)
"It looks like it was a priority for the new government to fix this,'' Kurland said. "Under the former government, law-and-order trumped compassion.''
A Federal Court judge ruled in July against the Conservative immigration minister and granted Figueroa a judicial review.
Judge Richard Mosley found the man did not take up arms, instead he educated students about the political situation in El Salvador and encouraged them to join the FMLN to help change it.
A peace agreement was reached in 1992. The FMLN won democratic elections to govern the country in 2009.
"I don't regret having had to take in sanctuary. Not at all.''
University of B.C. Prof. Maxwell Cameron, who also assisted in the case, said Figueroa was not embroiled in terrorism versus democracy, but with a "bloodthirsty'' military regime repressing a popular insurrection.
"Calling someone who was part of the popular resistance a terrorist ... goes against the historical record and exposes the lack of nuance in the application of our legislation,'' said Cameron, director at the Centre for the Study of Democratic Institutions.
Figueroa said his family has suffered while he's been unable to leave the church, and it pains him to consider missing birthdays and his son's high school graduation.
"This was my best option in order to be close to my family,'' he said. "I don't regret having had to take in sanctuary. Not at all.''
-- Follow @TamsynBurgmann at Twitter