It was -21 C outside when a group of Syrian refugees arrived in Winnipeg Saturday. But before they left the airport, an ensemble of traditional Cree singers extended a warm welcome to them in song.
A video shared on Facebook shows members of the Keewatin Otchitchak traditional women's drum group singing in the Winnipeg airport's festively-decorated baggage area.
"Welcome to Canada," read a colourful handwritten sign held up by a girl nearby.
On Monday, members of the Albakar family — who arrived Saturday — were greeted by Winnipeg Mayor Brian Bowman and Winnipeg South Centre MP Jim Carr at Welcome Place, a temporary housing complex for newly arrived refugees.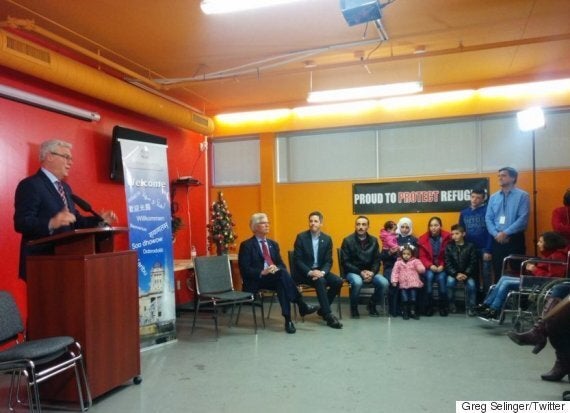 Premier Greg Selinger speaks to media and a Syrian refugee family at Winnipeg's Welcome Place on Monday. (Greg Selinger/Twitter)
Premier Greg Selinger, who was also on hand, said Manitobans are "yet again are demonstrating their compassion, understanding and hospitality," reported to CBC News.
Upwards of 2,000 Syrian refugees are expected to settle in the province.
That number is inclusive of the 25,000 the federal government pledged to bring to Canada by the end of February. In a release, Selinger said the response from Manitobans to the refugee crisis has been extraordinary.
"While the weather might be colder than they are used to, I hope the warmth of our welcome will help them settle in and begin their new lives in Canada," he said.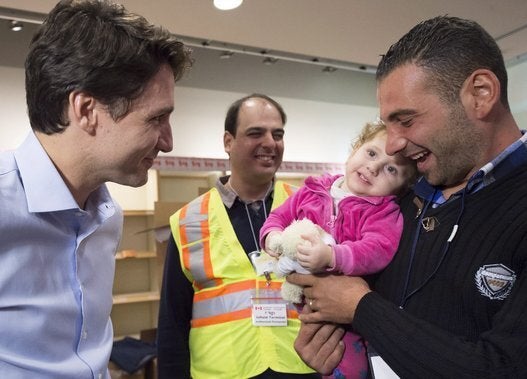 Trudeau Greets Syrian Refugees