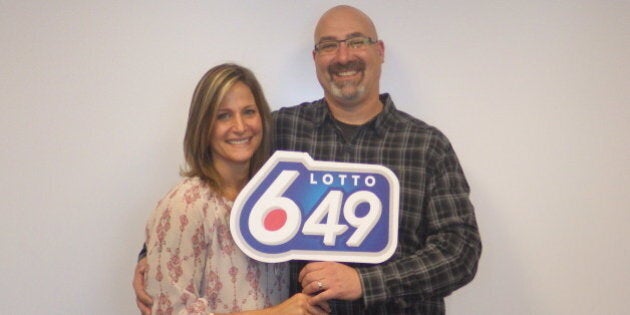 ST. ALBERT, Alta. — A southern Alberta couple are $14.5 million richer thanks to two mischievous dogs.
Christian and Monique Etienne of Airdrie purchased the winning ticket for the Lotto 6-49 draw on Dec. 12 while getting supplies to clean up after their rescue animals.
Chancey the golden lab and Kira, a German shepherd, had made a mess with a package of scone mix and the Etiennes needed to rent a carpet cleaner at a gas station.
Christian discovered the win on the self-checker when he took the ticket back to a retailer a few days after the draw.
His wife thought he was pulling her leg when he told her they'd hit the jackpot.
"We were talking about how we can just help to make a lot of people happy."
The couple don't have a lot of plans for their winnings yet, but it's a safe bet Chancey and Kira won't be spending much time in the doghouse.
"Right now we're just enjoying the Cloud 9 feeling,'' Christian said Tuesday as the couple's identity was revealed.
"We were talking about how we can just help to make a lot of people happy,'' added Monique. "I've always wanted to take my mom back to Norway, her home country. Now I can!''