A Dutch hospital has made a revolutionary invention for maternity wards: clip-on bassinets.
The unique invention has been integrated at Gelderse Vallei in order to make mothers and their babies as comfortable as possible. "Mother and child are thus close together and can touch each other without the intervention of a nurse," the hospital website explains.
This type of bed also has a number of benefits. "Breastfeeding is easier because the baby is nearby," the site reads. "Especially after a caesarean delivery, if the mother is not very mobile for a few days, the manger has great advantages."
Back in June, a photo of the baby bassinets made the rounds on Facebook after it was shared by Australian parenting site BellyBelly. The post quickly garnered thousands of shares, likes and positive comments.
"Yes! This would be awesome! Especially if you have a C-section or an epidural and can't get up right away!!" one wrote.
Another said: "No C-section or overly traumatic birth for me but would've still loved this... would've meant I could lay with our baby instead of perching on the edge of the bed all night staring at her in wonderment."
While the unique crib has myriad benefits, Dr. Iffath Hoskins, of NYU Langone Medical Center, warns that there is still a risk of smothering the baby since there is no barrier between the bed and the bassinet.
Additionally, in an interview with Yahoo Parenting, Hoskins said that there is one advantage to not having these bassinets in maternity wards.
"There are many mothers who have trouble getting out of bed, but postpartum, especially post-C-section, there is a very high risk for blood clots in the leg," she explained. "An advantage of being forced to get up for the baby is that it forces the mother to move her legs — it's a big plus. However painful it can be, it's important for new moms to move rather than remaining in their hospital beds."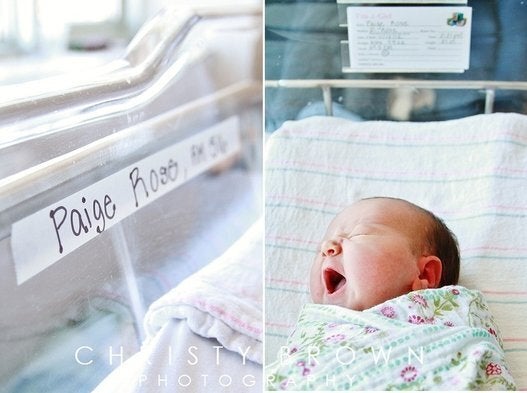 Newborn Photos To Get In The Hospital