We didn't think the Love Advent calendar could get much hotter, but Kendall Jenner just proved us wrong.
For day 24 of the annual online calendar, the 20-year-old supermodel transforms into a lingerie-wearing sorceress who sets the forest on fire, melting the snow and literally heating up the holiday season.

Sporting a black mesh and lace corset with matching underwear and ripped stockings held up by a garter belt, the face of Calvin Klein emerges from the burning forest victorious, then proceeds to do an interpretive dance (because, why not?)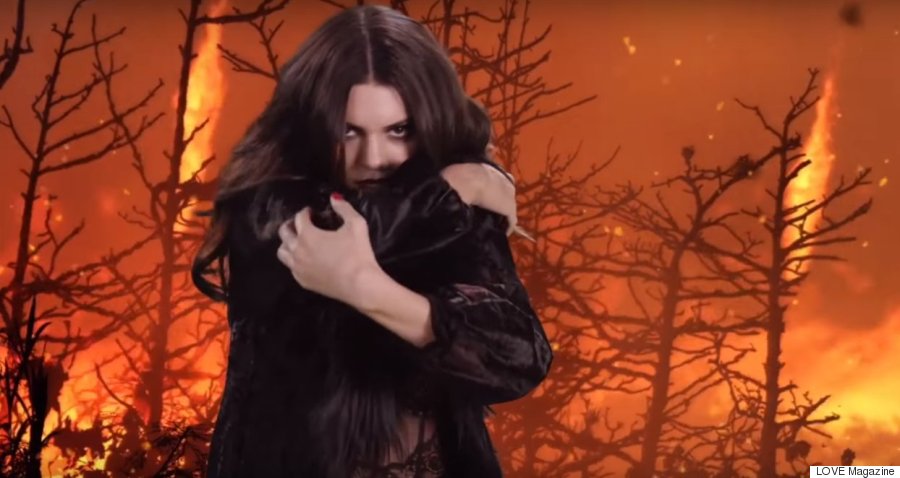 Director James Lima tells WWD the idea for the apocalyptic film came to him in a dream, and he thought Jenner was the perfect person to bring it to life.
"I saw this figure, this vision of a woman as an ancient force, elemental and mystical. She is a goddess who created the seasons, the elements and the concept of astronomical time," Lima says of the clip entitled "YuleTide." "Kendall is the perfect person to play this character. She is beautiful, powerful, fearless and yet vulnerable."

This persona is a stark difference from Jenner's first appearance in this year's LOVE Advent. On day one, she dressed up as a shark to kick off the festive calendar.
We can't wait to see what else Kendall and LOVE have up their sleeves!
Follow Huffington Post Canada Style on Pinterest, Facebook and Twitter!
Also on HuffPost
Style Evolution: Kendall Jenner