If you buy products marketed toward women, chances are you're getting ripped off.
That's because of the bewildering gender binary retailers force upon products that actually do the same thing.
A study by the New York City Department of Consumer Affairs found that of 800 products surveyed, those advertised for women were seven per cent more expensive than so-called "men's products". On average, women's products cost more than men's 42 per cent of the time, while men's products cost more only 18 per cent of the time.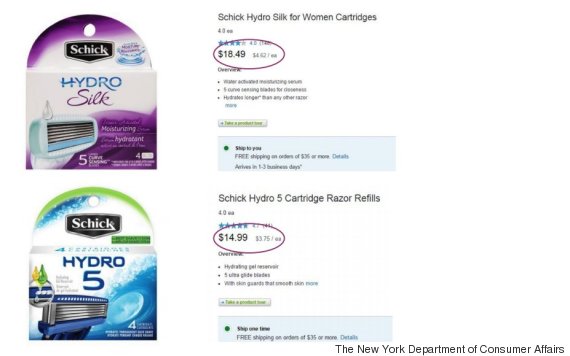 The beauty aisle was where shoppers were forking over the most cash for women's products, with women's beauty products on average 13 per cent higher than men's. Shampoos, conditioners and other hair products cost a whopping 48 per cent more if they were marketed for women. Razor cartridges were marked up 11 per cent more. Forbes reported that over their lifetimes, women paid $1,351 more for these personal care products.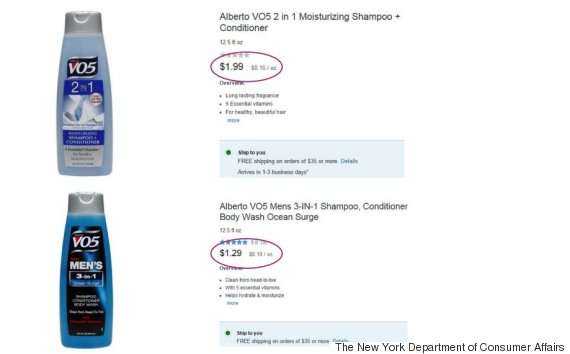 "Because personal care products are purchased at a higher frequency than the other consumer goods included in this study, this 13 percent difference translates into a significant financial burden for women over the course of a lifetime," the study reported.
Fashion didn't fare well, with Club Monaco being the top offender of gendered pricing. Their women's section was almost 29 per cent more expensive than the men's.
Last year, a CBC Marketplace investigation also found that Canadian women often paid more at the store.
Wrinkle creams pitched to women would get the gouging treatment. One anti-wrinkle cream was $14 more than the men's equivalent, by the same company.
Unsurprisingly, Twitter took issue with the "gender tax". Users used #genderpricing to express their disbelief.
Spot #genderpricing during your holiday shopping? Share pics with us. Let's tell retailers we want fair prices! https://t.co/T7hyYlMlb6

— NYC Consumer Affairs (@NYCDCA) December 19, 2015
started using the dry cleaners for shirts. I don't understand why 4 of hubby's shirts cost $10 and 3 of mine cost $13!!! #genderpricing

— Elvira Palermo (@elvira_pal) October 28, 2015
Does this piss anyone else off?? #genderpricing pic.twitter.com/YXhltjSMxG

— Jordan Bohr (@Joj_Bohr) May 27, 2015
#genderpricing on toys, can we go back to talking about how toys should not be gender targeted! We need more women in STEM careers.

— Lachlan Smith (@smithy_dll) December 24, 2015
Retailers: We live in the 21st century. About time you change #genderpricing to #fairpricing! https://t.co/XOuLqBlx6Q

— Sonam Velani (@sonamvelani) December 19, 2015
So why do men's products cost less? It might be because men's products aren't viewed as men's products. Ravi Dhar, director of the Center for Customer Insights at the Yale School of Management, told The Washington Post that women's products are seen as specialty items that are created to match their needs, men's products are seen as generic.
"People see a greater fit between the product and their tastes and may be willing to pay more," Dhar said.
This may be so, but New York Department of Consumer Affairs took issue with how unnecessarily gendered products confined shoppers to buy things they didn't want as specialty items in the first place.
"Individual consumers do not have control over the textiles or ingredients used in the products marketed to them and must make purchasing choices based only on what is available in the marketplace," the department reported. "As such, choices made by manufacturers and retailers result in a greater financial burden for female consumers than for male consumers."
If that's the case, more gender-neutral options that don't assume a default taste for a gender would be part of the answer. Already, clothing lines like Toronto-based The Future Is The Future offer clothes for all genders.
Selfridges also has a concept for a genderless clothing department, and retailers like H&M's & Other Stories have run transgender ad campaigns that promoted non-traditional norms for what's appropriate for a gender to wear.
Laws in Canada don't ban gender-based price discrimination. With no signs of consumer parity in sight, shoppers will have to do what's practical: treat the men and women's aisles as suggestions, rather than rules.
Follow Huffington Post Canada Style on Pinterest, Facebook and Twitter!
Also on HuffPost
Campaigns For Gender Equality