Siham Abu Sitta and her three daughters are surrounded by "new family" on Boxing Day — members of the Toronto church congregation who spent more than a year trying to bring the Syrian widow to Canada after years of an illegal existence in a Lebanese refugee camp.
"Finally I meet my family. You are my family," she said, gesturing to her sponsors at Fairlawn Avenue United Church helping to sponsor the family.  "Now I have brothers, sisters."
Abu Sitta's eight-year-old twins, Jana and Joudy, play next to a Christmas tree Sunday, as their mother recounts the journey that brought them to Toronto, using English words she began learning nine months ago.
Leaving Syria
The Syrian widow has been looking for a fresh start for her family since the day she, the twins and her husband Ghassan were driving home outside Damascus on Jan. 13, 2013.
A sniper's bullet pierced the car and Ghassan was killed. It's unclear exactly who was responsible, but Abu Sitta said that she knows she has since been blacklisted by Syrian President Bashar Al-Assad's regime for her work documenting human rights abuses.
She, the twins, and her 21-year-old fled to their home in Yarmouk, a permanent refugee camp for Palestinians just outside Damascus in Syria.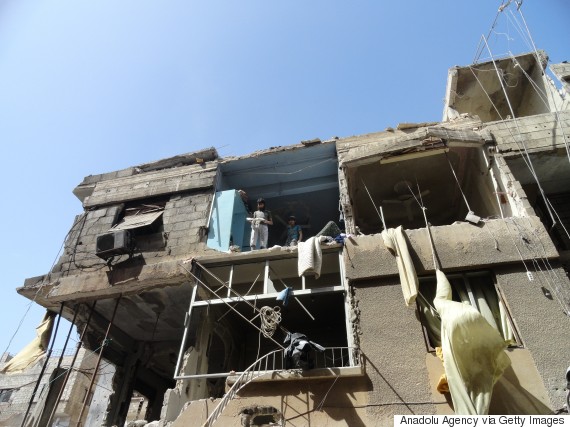 Buildings are damaged after Assad regime forces rocket attack to Yarmouk refugee camp on April 7, 2015 in Damascus, Syria. (Photo: Rami el Sayed/Anadolu Agency/Getty Images)
They arrived in Lebanon in early 2013. They have continued lived there illegally in a refugee camp, as the family did not receive permission to stay longer than a week, she told CBC News earlier this year.
That country began deporting those living there without papers to Damascus. She and her sponsors began worrying this fall that she and her family would not make it to Canada.
Members of the church appealed to Joe Oliver, the area's former MP, and former Immigration Minister Chris Alexander. But said they said the process only sped up after the new government announced Canada would accept 25,000 refugees in the coming months. 
"We have had a real journey on this end, some disappointments," said congregation member Mary Ellen Richardson. "But now [we're] just so very grateful that she's here and that she's safe and we can help her in a new life."
About 40 church members took on different responsibilities in helping bring the family to Canada, from finding housing to working with Citizenship and Immigration Canada to speed up the relocation.
"We've waited a long time and this is like a birth for us as a community, as a congregation," Richardson said. "It's just been transformative, this whole ability to help someone else in this profound way."
'Everything is good'
Abu Sitta began teaching her children English nine months ago, around the same time Fairlawn Avenue United Church sponsored her and the girls. They need to get the girls settled in school. Her elder daughter's husband is still in Turkey, and they hope he will be relocate to Canada as well.
"I think because I have a lot of friends around me, they will help me to start," she said Sunday. "They are the most useful thing. When you find warm hearts, that's what you need in your life."
And Abu Sitta said that she feels her husband is watching over them as well.
"If he could be with us he will be proud and happy for everything that happened," she said. "The last time I saw my husband, he was so worried about the future, but I think I can tell him now that everything is good."
Also on HuffPost:
Great Things Canadians Have Done So Far For Syrian Refugees