It's easy to forget that there was more to Canadian politics in 2015 than the marathon campaign that stretched from summer to fall.
The victory of Justin Trudeau's Liberals, who barrelled from third place to a majority government and ended the reign of Stephen Harper's Conservatives, will rightly be remembered as the political story of the year.
But there were other consequential debates and discussions that occurred in the months leading to the writ drop — from Canada's role in the fight against ISIS to repeated calls for a national inquiry into missing and murdered indigenous women.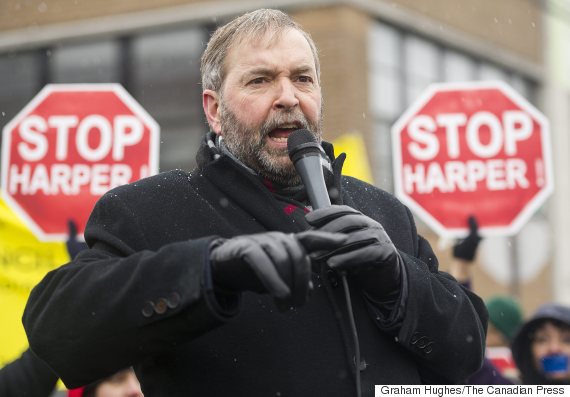 NDP Leader Thomas Mulcair speaks during an anti-C-51 protest in Montreal in March. (Photo: Graham Hughes/The Canadian Press)
And there were several stories that resonated with HuffPost Canada readers this year, long before the nation's attention shifted to the campaign.
Bill C-51
It was notable to see Canadians react strongly to a piece of legislation as they did to the Tories' anti-terrorism bill. C-51 dominated the conversation for months, sparking protests across Canada.
Tabled in late January, just a few months after the murder of two Canadian soldiers and attack on Parliament Hill, the bill became law in June.
It gives the Canadian Security Intelligence Service enhanced powers to actively thwart terror plots, increases the exchange of federal security information, broadens no-fly list powers, and creates a new criminal offence of the act of encouraging someone to carry out a terror attack.
&nbsp
The political battle lines were drawn shortly after the bill's introduction. The Liberals supported the bill, but pledged to amend it if elected government, and promised to provide better oversight of security agencies. The NDP opposed the legislation and eventually vowed to repeal it.
For months, NDP Leader Thomas Mulcair was as critical of Trudeau on the issue as he was of Harper. The NDP leader said Trudeau was "intimidated" into backing what he called an unconstitutional piece legislation, and blasted him for lacking the backbone to stand up to Harper.
At the University of British Columbia in March, the Liberal leader conceded that electoral calculations played a part in his decision, saying he did not want to let Harper make "political hay" by painting Liberals as soft on terrorism.
&nbsp
"This conversation might be different if we weren't months from an election campaign, but we are," he said at the time.
The bill's popularity plummeted after it was denounced by the federal privacy commissioner, the Canadian Bar Association, environmental organizations, civil libertarians, and others.
Trudeau faced heat from progressives who accused him of abandoning the Charter of Rights and Freedoms. However, the Liberal leader proved himself able to debate the matter directly with protesters.
New Democrats even accused a top Liberal of "fear-mongering" in defence of the bill.
In June, a star candidate quit the Liberals over the party's stance and 26 Senate Liberals voted against the legislation in the upper chamber.
But while the controversy no doubt hurt the Liberals' popularity leading into the election, C-51 was not nearly the election issue some thought it might be.
Trudeau said in the first leaders' debate he was, perhaps, "naïve" to think he could take such a position during such a time of "attack and division."
Mulcair's New Democrats tried to hammer Grits over the matter on the campaign trail, particularly in the progressive stronghold of Toronto, but it didn't stick. Liberal candidates would end up ousting a number of popular NDP MPs across the country.
Popular Stories:

Tories Criticized Over 'Fear-Mongering' Facebook Post On Bill C-51

NDP MPs Vote Verrry Slllllowly To Protest And Annoy Tories

Here's Why The Liberals Are Really Supporting Bill C-51

Bill C-51 A 'Fascist' Piece Of Legislation: Constitutional Lawyer
Heated Debates About Muslim Canadians
By the end of the federal election campaign, Conservatives were accused of "fanning the flames of xenophobia" toward Muslim Canadians with their apparent focus on matters including niqabs and "barbaric cultural practices."
But those paying attention know emotional debates about the treatment of Muslims were happening long before the campaign.
Things reached a fever pitch early in 2015 after a federal court struck down a law banning Muslim women from wearing face-covering veils while swearing the oath of citizenship.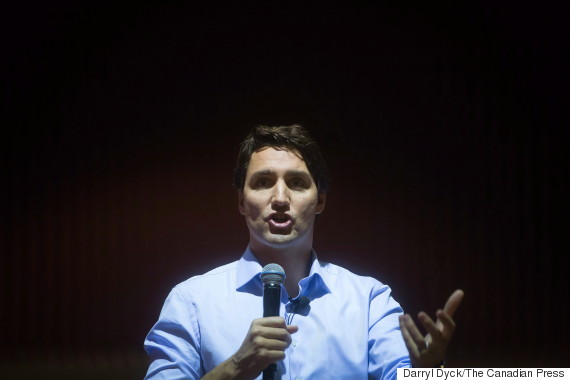 Justin Trudeau speaks to UBC students in March. (Photo: Darryl Dyck/CP)
Harper stated publicly that covering one's face while taking that oath was "offensive" and "not the way we do things here."
In March, Trudeau responded with a controversial speech in Toronto where he accused the prime minister of "deliberately" stoking bigotry against Muslims.
"It is nothing less than an attempt to play on people's fears and foster prejudice, directly toward the Muslim faith. This is not the spirit of Canadian liberty, my friends," Trudeau said at the time. "It is the spirit of the Komagata Maru. Of the St. Louis. Of 'none is too many.'"
The Komagata Maru was a ship that carried Muslim, Hindu and Sikh passengers into Canada and was denied entry in 1914. The St. Louis was a German ocean liner whose Jewish passengers were denied entry in 1939 under the "none is too many" policy of the Canadian government of the day.
Some accused the Liberal leader of going too far. Top Tory Jason Kenney said the remarks were "obscene."
&nbsp
Harper and Trudeau traded shots during question period, with the Conservative leader accusing his rival of being "far outside the mainstream" on the niqab issue.
"Why would Canadians, contrary to our own values, embrace a practice at that time that is not transparent, that is not open and, frankly, is rooted in a culture that is anti-women?" Harper said.
Things got even more intense when a Tory MP said on the radio that Muslim women who did not want to remove the veil during the citizenship oath should "stay the hell where you came from."
By the spring, then-immigration minister Chris Alexander and Liberal John McCallum — who would eventually replace him in the portfolio — openly traded accusations of racism in the House.
&nbsp
It was an entirely different kind of politics than Canadians were accustomed and, perhaps, a preview of the campaign to come.
Popular Stories:

Tory Minister Calls Blasts Liberals As The 'Racist Party'

Tory MP Apologizes For Niqab Remark

Kenney Blasts Trudeau For Accusing Tories Of Stoking Anti-Muslim Prejudice
'The Orange Surge'
While the New Democrats are now relegated to third party status in the House of Commons, the party's rise in 2015 shouldn't be dismissed as momentary blip.
When the election was called in August, polls suggested Muclair's NDP was the front-runner party — a monumental achievement considering it has never governed federally and has struggled to be taken seriously as a government in waiting.
The party's provincial cousins in Alberta had something to do with it. In early May, Rachel Notley's Alberta NDP won a stunning majority government, ending the Progressive Conservatives' 43-year reign.
Federal Tories — some of whom openly warned an NDP win would be disastrous — were not happy. It was reported that days after the vote, the Tory caucus room was "like a morgue."
Mulcair's NDP was ecstatic and not at all shy about riding Notley's coattails.
Don't let them tell you it can't be done. #NDP pic.twitter.com/XENfNGLP3R

— NDP_HQ (@NDP_HQ) May 6, 2015
Then their fortunes started to change. In mid-May, polls started to suggest the federal NDP had vaulted into a three-way tie with Liberals and Tories. About a week later, they were slightly in the lead. And by the summer, Mulcair's team was in majority territory.
NDP strategists told HuffPost in early August while the Alberta election gave them a boost, the Liberals' support of Bill C-51 was a gift.
"C-51 became an issue about leadership as much as it was about civil liberties," Brad Lavigne, national campaign director, said at the time. "Mulcair opposed the bill because it was flawed, despite its initial popularity. Trudeau [supported] the bill because it was popular, despite its flaws."
The Alberta election just illustrated the "NDP could win anywhere," he said.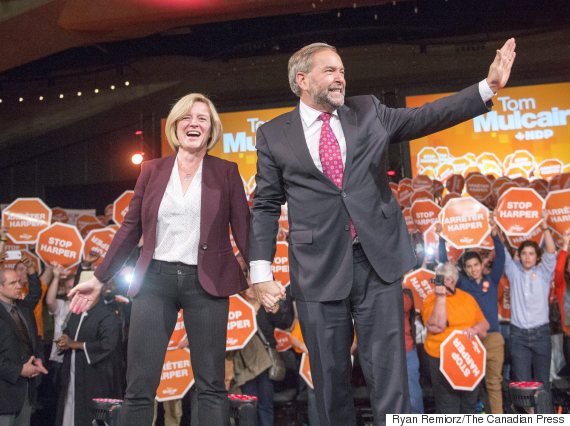 Thomas Mulcair is introduced by Rachel Notley at a campaign event. (Photo: Ryan Remiorz/CP)
Of course, it was not meant to be for Mulcair. In what some have dubbed the "orange crash," the NDP fell from 95 to 44 seats.
Mulcair now faces a leadership review in April that will determine if he gets to stay on as leader.
Popular Stories:

How Thomas Mulcair's NDP Went From Frustration To Front-Runner

Here's What Made Ex-Liberals Back Mulcair, And Ex-NDPers Turn To Trudeau
The Conservative Exodus
Though a number of Tory cabinet ministers were defeated last fall, it's worth remembering those who surprisingly opted not to saddle up at all.
The story goes that before he shuffled his cabinet in July 2013, Harper asked ministers if they were going to run again in two years. Some ministers felt pressure at the time to reveal their retirement plans early so new faces could join Harper's inner circle. The ones who made the cut were expected to join him in battle.
But in February, John Baird announced he was stepping down as foreign affairs minister and would not run for re-election. After about 20 years in politics, Baird said he wanted to do something else. The news took many by surprise.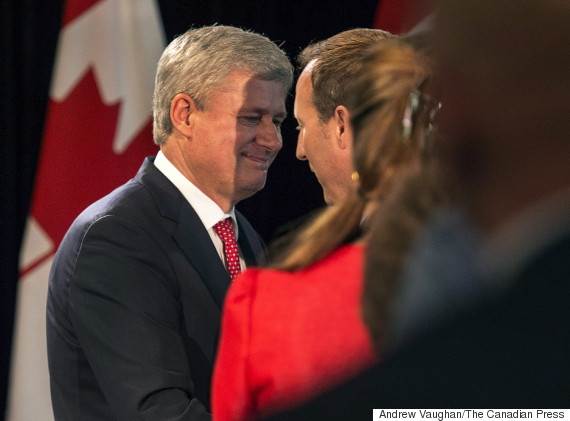 Peter MacKay talks with then-prime minister Stephen Harper after announcing he won't run again. (Photo: Andrew Vaughan/CP)
In April, then-heritage minister Shelly Glover and then-international development minister Christian Paradis announced on the same day that they wouldn't seek re-election either.
The NDP said their departures were a sign that the Tories were in trouble.
A month later, then-justice minister Peter MacKay — a key architect of the Conservative Party — announced he was retiring to spend more time with his young family. Though Harper was by his side at an event in Nova Scotia and toasted MacKay as an "historic figure," Mulcair was quick to point out that "a lot of people are abandoning Stephen Harper's ship these days."
In June, then-industry minister James Moore said he wouldn't run again, citing his young son's health issues.
While there is no reason to doubt that these people wanted to be with their families or pursue new opportunities, the so-called Tory exodus may have foreshadowed that change was looming.
&nbsp
Baird's riding turned red. MacKay's riding turned red. Glover's riding turned red. Moore's riding turned red. Paradis' riding stayed blue.
And with a Tory leadership race set to become a key storyline in 2016, none of the names above carry the stench of defeat. While Baird and Moore have ruled out running to replace Harper, MacKay is expected to take the plunge.
Popular Stories:

MacKay The Early Frontrunner For Tory Leader: Poll
With files from The Canadian Press
ALSO ON HUFFPOST:
Notable Political Quotes From 2015