An earthquake that struck near Victoria, B.C. as many people were sleeping shook the province's South Coast.
Natural Resources Canada said the tremor measured 4.3 while the U.S. Geological Survey placed the magnitude at 4.8.
Click map for full size: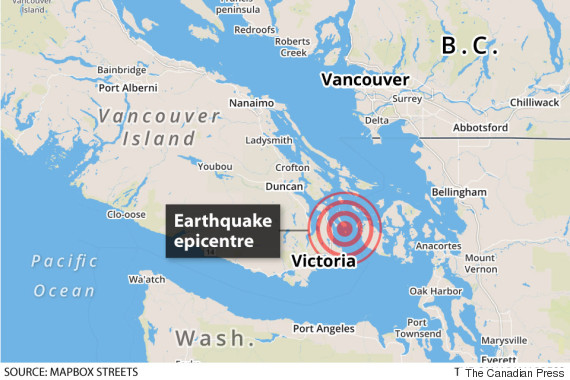 The quake struck at 11:39 p.m. PST about 20 kilometres north of Victoria and was felt across much of southern British Columbia. There are no reports of damage or injuries, and the National Tsunami Warning Center said the earthquake was not expected to produce a tsunami.
Geophysicist John Cassidy with the Sidney, B.C.-based Geological Survey of Canada said scientists would be more certain of the estimated magnitude, once they analyze the quake's wave forms and data.
"It's the largest in the area since back in 2001 and that was a 6.8 earthquake near Seattle and Tacoma. So it was the same type of earthquake that hit Seattle, but it was about 100 times smaller.''
The tremor, which lasted for several seconds, felt like a large truck rumbling by in the suburb of Richmond, and even knocked over a lamp in an Abbotsford home.
TransLink temporarily shut down two lines on Metro Vancouver's SkyTrain system to assess if it was safe to operate after the earthquake. It was reopen in time for one last run, and is back in regular service on Wednesday.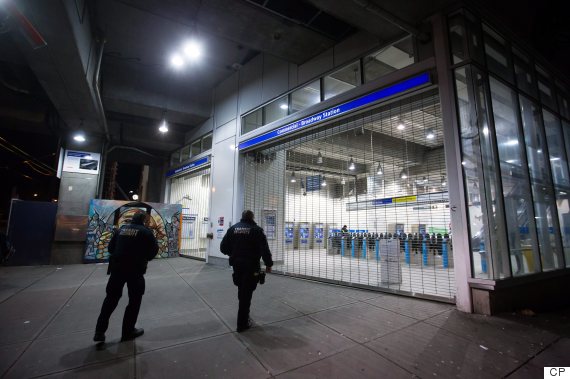 Transit security officers walk outside the Commercial-Broadway Skytrain station after the commuter train system was shut down to check for any possible damage to elevated guideways in Vancouver. (Photo: Darryl Dyck/Canadian Press)
BC Hydro reported that the quake had no impact on its electrical transmission and distribution systems.
Cassidy noted that the depth of the shock's epicentre may have lessened its impact at surface-level.
"Even people who live very close to the epicentre of the earthquake will be 50 or 60 kilometres away from where the shaking originated. So that makes the shaking not as strong as if it had been right up at the surface or very close to the surface. These deep earthquakes tend to have very few or, most often, no aftershocks."
Such a fact, however, won't settle the unease among West Coast residents, who have been warned about an impending large earthquake for years.
Preparing for 'The Big One'
British Columbia sits on what's known as the Cascadia subduction zone, where earthquakes tend to occur either within the Juan de Fuca plate or the overriding North America plate. Big subduction earthquakes, like the one that struck Japan in 2011, also occur in the Juan de Fuca plate.
The City of Vancouver used the quake to remind people to be prepared for a large-scale disaster.
It's important to be prepared for an #earthquake in Vancouver. Find out how you can prepare for you & your family https://t.co/m6i6USIc3x.

— City of Vancouver (@CityofVancouver) December 30, 2015
The B.C. tremor followed another several hours earlier near San Bernadino, Calif., that measured 4.4.
The USGS said aftershocks of magnitude 3.8 and 3.2 came minutes later and dozens of tiny aftershocks followed in the next few hours.
Cassidy said that the B.C. and California quakes are likely not related because they're part of different fault lines.
With files from The Canadian Press and The Associated Press
Also on HuffPost