A snowstorm hit parts of eastern Canada and the Maritimes this week, and now a different kind of weather system may bring a special light show to Canadian skies.
The U.S. National Oceanic And Atmospheric Administration predicts the Earth will see strong geomagnetic storm activity Wednesday, which will then lighten on New Year's Eve.
This is due to the likely impact from a coronal mass ejection, which is a giant burst of energized plasma or particles from the sun that affect the Earth's magnetic field, according to The Weather Channel.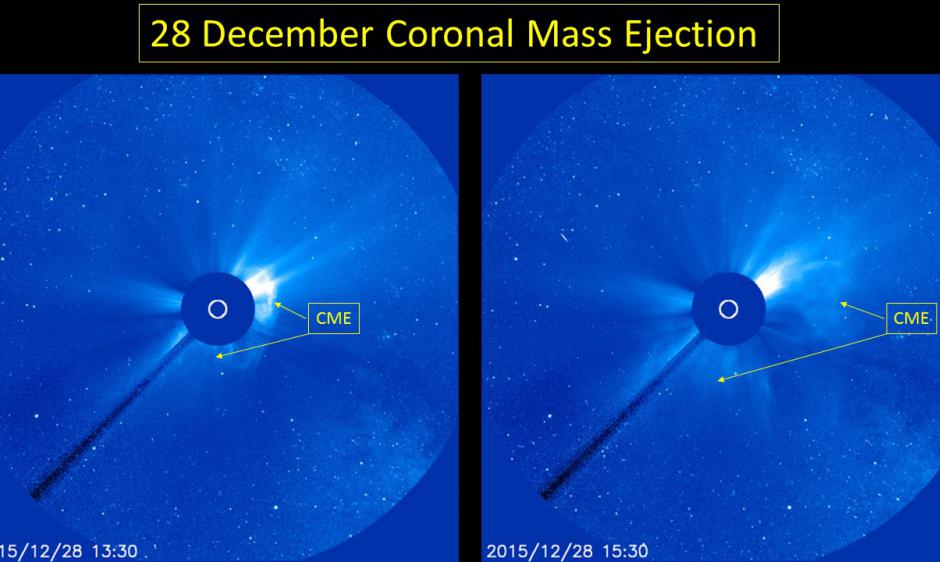 A coronal mass ejection pictured on Monday. (Photo: NOAA)
But while the U.S. agency says the geomagnetic storm may affect power systems and spacecrafts, Canadians are more likely to notice the appearance of the northern lights.
The aurora borealis display may be visible at as low as 50 degrees geomagnetic latitude — which includes the whole country.
"It means we have a chance of seeing aurora in areas that aren't used to seeing it," Robyn Fiori, a research scientist for Natural Resources Canada's Canadian Space Weather Forecast Centre, told Black Press.
She said most of the light play will probably happen Wednesday night.
The Canadian Space Weather Forecast Centre predicts some stormy geomagnetic periods for the next day or so, meaning eager photographers and skywatchers may want to consider staying up late.
But while space weather can be stunning, it can also have some dangerous consequences.
Geomagnetic storms can damage equipment on satellites, which support much of our day-to-day communication, according to The Weather Channel. Severe storms could also charge transmission lines with electrical current, potentially damaging transformers and knocking out power for long periods of time.
Watch the video above to find out more about how severe space weather could affect Earth.
Also on HuffPost
Top 10 Places to See the Northern Lights