OTTAWA — The Liberal government says it remains committed to doubling to 10,000 the number of applications it will process each year for family reunification of parents and grandparents.
However the web site of Citizenship and Immigration says applications are now being accepted for 2016 — and the government web page cautions in bold that the number of applications is capped at 5,000.
Justin Trudeau promised in September during the election campaign that a Liberal government would double the cap as part of a package of immigration reforms.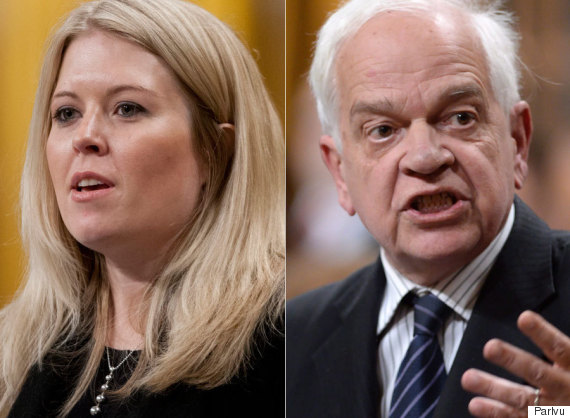 Immigration Minister John McCallum and Conservative critic Michelle Rempel. (Photo: CP)
The annual limit on family reunification applications for aging parents and grandparents was brought in by the former Conservative government, which called the program an abuse of generosity.
The Liberal government did not explain why the 5,000-application cap remains flagged on the web site, but in an emailed statement, Immigration Minister John McCallum said he still plans to double the cap.
He says he will consult his cabinet colleagues on the change early in the new year.
"We are committed to reuniting families and we intend to meet the commitment to double the intake of PGP sponsorship applications from 5,000 to 10,000 per year," says the minister's statement.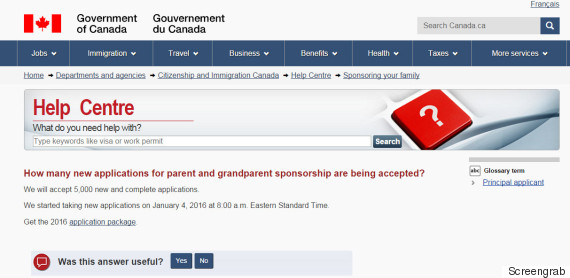 Screengrab of Citizenship and Immigration website.
The measure to double the application cap is also listed among the "key commitments for action in first 100 days" cited in the prime minister's briefing books, obtained by The Canadian Press under the access to information law.
Nonetheless, Conservatives jumped on Citizenship and Immigration's web page notification Monday as evidence of "yet another unachievable Liberal campaign promise."
Calgary MP Michelle Rempel posted on Facebook: "Keeping a realistic goal of 5,000 applications a year was part of our Conservative government's initiative to be prudent managers of government. It was totally irresponsible of Trudeau to promise more than his government is able to deliver."
Any changes to immigration levels will be announced when the government delivers its annual immigration report. The report was supposed to be tabled by Nov. 1, however the House of Commons was not yet sitting after the Oct. 19 election that dumped the Conservatives and brought Trudeau's Liberals to power.
The annual report must be tabled within 30 days of Parliament's return.
Also on HuffPost
Best Canadian Political Photos Of 2015