The owner of a dog that bit a Richmond, B.C. woman over 100 times is defending his pet.
Lucas MacNeil says Yogi, a Rottweiler-Husky cross, was taken from his home without permission and may have been provoked before attacking twin sisters Kati and Jessi Mather, in a Facebook post on Saturday.

The sisters, along with Jessi's three-year-old son, were out walking the dog on Wednesday when it lashed out, reported CBC News.
Kati was bitten over 100 times. Her arm was fractured and she suffered a detached bicep as she tried to protect her nephew.
Jessi, along with a Good Samaritan who stepped in to help, was also bitten. The boy wasn't hurt, according to Richmond RCMP.
Cpl. Dennis Hwang said the 80-pound (35-kilogram) dog was later found uninjured and taken by animal services.
The officer added that Yogi was known to the 21-year-old sisters and belonged to a boyfriend.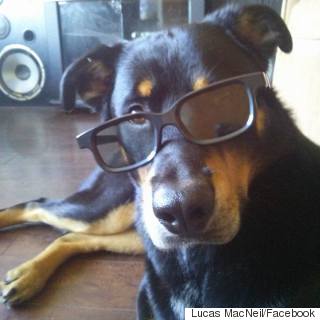 Yogi, a 35-kilogram Rottweiler-cross, attacked two women last Wednesday. (Photo: Facebook)
In the days since the attack, questions have been raised about the role drugs may have played in the incident.
The twins run several social media pages called "Twins that toke THC," with pictures of the pair smoking and drinking. THC is the medical ingredient found in marijuana.
Animal behaviourist Dr. Rebecca Ledger told CTV News that substance abuse can influence a dog's behaviour.
"Generally, it's rare for dogs to attack out of the blue. Usually there's a history of anxiety and fear," Ledger told the outlet, adding that the attack was "among the worst attacks" she'd heard of.
The Richmond SPCA says it only euthanizes "aggressive" dogs if a veterinarian deems the animal a "material danger to human safety."
City bylaws say any dog that has injured a person or another animal is considered dangerous.
(h/t CKNW)
Like Us On Facebook

Follow Us On Twitter

Follow Us On Instagram
Also On HuffPost:
Most Popular Dog Breeds In U.S.