AOL
An Edmonton man is calling for a fare cap and more clarity in Uber's pricing system after he was charged $1,114 for a 60-minute ride on New Year's Eve.
Matthew Lindsay was trying to get to Edmonton's south end from St. Albert. He saw that Uber's "surge pricing" was active and that his fare would be multiplied by 8.9 (usually, the trip would cost $125). He told Global News he was unaware of how much the ride would cost in total.
He posted a screenshot of his final fare to Twitter.
Please be careful when selecting your ride home this holiday. This is my fare on NYE. #Uber #ubersurge #ubered pic.twitter.com/KipVHjwoim

— Matt Lindsay (@ATCMatt) January 1, 2016
Uber's website says the surge pricing model was created to ensure reliability when there aren't enough drivers on the road to meet demand. The company says in the spirit of transparency, riders are notified of the increased rate and it's up to them to accept the increased fares before they're connected with a driver.
The company also delivered an email to warn customers about increased prices in advance of New Year's.
"The surge confirmation screen requires you to type in the surge multiplier to make sure you know what to expect ... Use the Fare Quote option in the Uber app to estimate your fare before you make your request," read the advisory.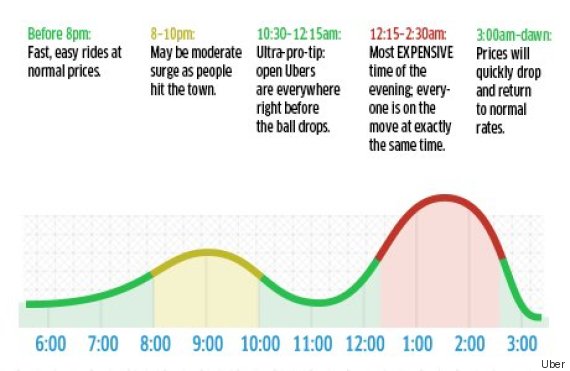 Lindsay has since been refunded half of his fare, but still has some concerns about how the company handles surge pricing.
"For these very particular, specific scenarios, there needs to be a cap or regulation of some sort to prevent being taken advantage of in a vulnerable state," Lindsay said in an interview with CTV News.
He acknowledges he wasn't sober at the time he agreed to the purchase, but says his intoxicated state is exactly why he was vulnerable to this sort of pricing model.
Coun. Andrew Knack told the Edmonton Journal surge fares are a reason companies such as Uber won't monopolize the transportation market, because passengers could simply wait for a regular cab, or take transit — which was free on New Year's Eve.
Like Us On Facebook

Follow Us On Twitter

Also on HuffPost: