Music and word map lovers rejoice — we've found a toy just for you.
The new year is a perfect time to overhaul your music rotation, but if you're looking for new songs, you might as well become familiar with a new genre altogether.
Every Noise at Once is a website that helps you search through more than 1300 musical genres in a giant scatter plot.
You may have heard of K-pop or Korean pop, but what about J-rap (Japanese rap)?
The site lets you browse through music from nation to nation, from Basque rock to Swedish synthpop.
Here you'll find the most contradictory labels from deep happy hardcore to heavy Christmas. And despite whatever skepticism you may have about these genres' actual existence, each one leads to a myriad of tunes from plenty of artists to give you a taste.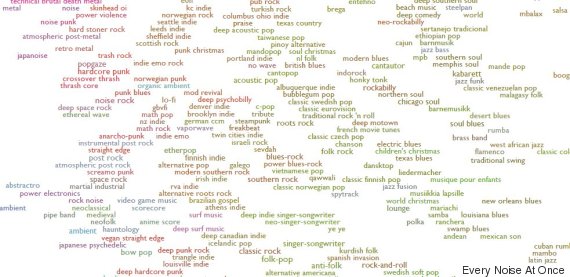 There are a few ways to navigate this site. It uses the Echo Nest, a music data platform, to compile information about each genre to organize the options in different displays. If you browse through the map, the titles' arrangement is computer generated and loosely based on the tempo, style and Internet popularity of the music — the bigger it is, the more searched it is.
Similar genres are laid out near each other, and as you read left to right within the area, you can get a sense of how severe or calm the genre will be. For instance, along the top, the map moves from deep house music on the right to softer trance on the left.
With the list option, you can pick a genre you're already familiar with and then reorder the list to show other music styles that are similar. For instance, if you're into Motown, you may want to branch out to Hi-NRG, a kind of electric dance music from the '70s.
You can also search your favourite artist to get a sense of which categories their work falls into.
You could spend hours clicking from rhythm and boogie to honky tonk and exploring the artists and Spotify playlists that go along with each genre.
So if you've been feeling out of touch with the tunes or mourning the impending loss of Songza, we suggest you head down the rabbit hole, and don't look back until you've found your new musical love.
Also on HuffPost
15 Workout Songs To Start January Right