A Michigan mom is receiving praise from parents everywhere for the way she's teaching her son to respect women.
On Facebook, former "16 and Pregnant" star Nikkole Paulun posted a photo of her six-year-old son Lyle getting ready to pay for their dinner date. In the caption, Paulun explained that her son takes her out once a month.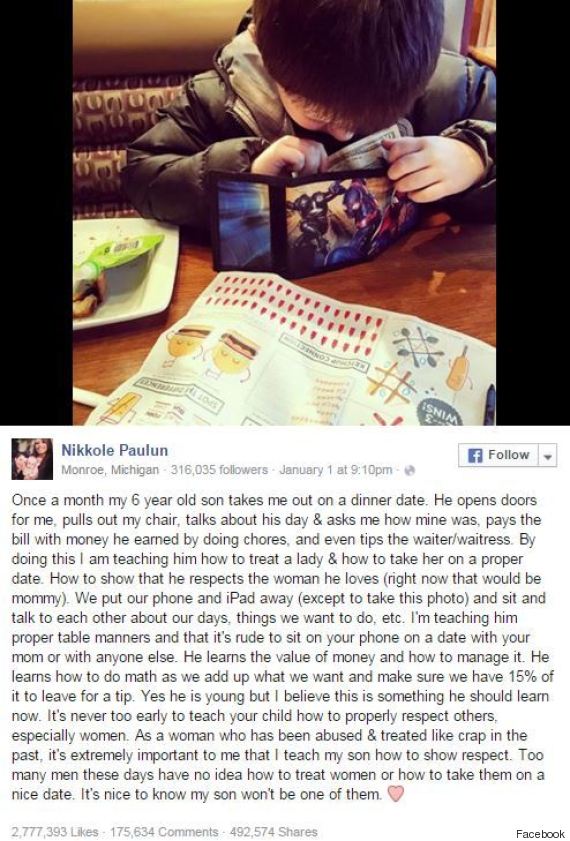 On her Facebook page, Paulun explained how her son acts like the perfect gentleman on their date, pulling out chairs and opening doors. And at the end of dinner, he even pays with the money he's earned from doing chores.
"By doing this I am teaching him how to treat a lady & how to take her on a proper date. How to show that he respects the woman he loves (right now that would be mommy)," Paulun wrote. "Yes he is young but I believe this is something he should learn now. It's never too early to teach your child how to properly respect others, especially women."
The 22-year-old was previously a victim of abuse, which was one of her motivations for teaching her son respect at an early age. Besides her son Lyle, Paulun also has a two-month-old daughter named Ellie.
Since being posted on New Year's Day, Paulun's photo has gone viral with over 2.7 million likes and 400,000 shares. Thousands of parents left positive comments for the former reality star, applauding her teaching method.
"Kudos, momma," one wrote. "[It's] our jobs as parents to teach our children how to treat others and it starts with how you treat your child. You're doing a great job."
Another said: "This is amazing I wish more people would do this with their kids."
The main public criticism Paulun received was that parents should be teaching all children, not just boys, about respect. Paulun's page was also temporarily disabled Monday after someone reported the post, Paulun told The Huffington Post Canada in an email, but has since being reactivated.
Despite this, fellow parents continued to leave praise for Paulun and even shared how they were setting a good example for their own kids.
"Great idea. I have 3 daughters and every night we sit at the dinner table... no phones and my husband and I make conversation with the two of us and our girls," one mom said. "We model table manners and how to talk to one another. My husband shows how to treat a woman and I show how to treat a man. Mutual respect goes a long way."
ALSO ON HUFFPOST:
Life Lessons We're NOT Teaching Our Kids