TORONTO — An overnight drop in stock prices that began in China provided a dismal backdrop for the first trading day of 2016.
The Toronto Stock Exchange's S&P/TSX composite index dropped 175.92 points or 1.35 per cent to 12,834.03 in the first minutes of trading Monday.
In New York, the Dow Jones average fell 363.67 or 2.09 per cent to 17,061.36, the broader S&P 500 index declined 38.88 points or 1.9 per cent to 2,005.06 and the Nasdaq lost 113.49 points or 2.47 per cent to 4,479.78.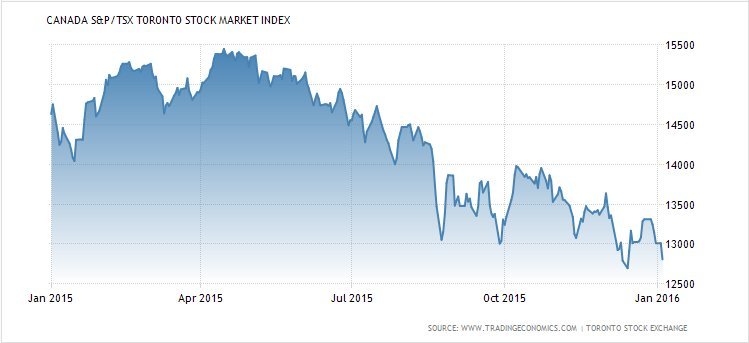 The S&P TSX index over the past 12 months.
The plunge began on the Shanghai index, which dived 6.9 per cent to 3,296.66 before the market was closed early to avert steeper falls.
It was the first time China used a new "circuit breaker'' mechanism.
The Canadian dollar traded at 71.97 cents U.S., down 0.28 of a cent from Thursday's close before the New Year holiday.
On the commodity markets, the February gold contract was up $16.90 to US$1,077.10 an ounce, the February crude contract was up 91 cents at US$37.95 per barrel and the January contract for natural gas was up one cent at US$2.35.
Also on HuffPost
The Stock Market Explained, In Pictures