Heather Gooch, her husband and their nine-month-old son were flying back home to New York from Florida last week. Since this was the first time their baby boy was awake on a flight, the parents "weren't sure how things would go." Luckily, flight attendant Anissa Charles went "above and beyond to make sure that the trip went as smoothly as possible."
In a Facebook post to Southwest Airlines, Gooch explained how her son began to get fussy during the flight. When Charles saw this, she came and picked the boy up and walked him up and down the aisle, allowing his parents to eat their lunch.
"I have NEVER had a flight attendant as kind and as helpful as she was. My son adored her and kept looking for her as she passed by," Gooch wrote.
"Although this may not be a story that stands out from the rest, I wanted to thank [Charles] and let her know how appreciated she is," the mother continued. "We so often hear about the negative things going on so I wanted to share this story of someone who made my trip a little brighter."
Gooch's post quickly racked up thousands of comments from those applauding Charles' simple gesture. "WOW!!! Being a first time mom and having flown with my little one, both with my husband, and without his help, this blows me away!!" one wrote.
Charles herself even responded to the post, saying it was her pleasure to help the baby boy and his parents out.
"I tell adults all the time on my flights, children are doing exactly what they are supposed to do... make noise!" she wrote. "Think about it, the aircraft is completely boring to them (after takeoff) and there's nowhere to run! I would honestly rather hear them make noise and even cry than to hear an adult whine! Lolol They have soooooo much to talk about and mom and dad deserve a break!"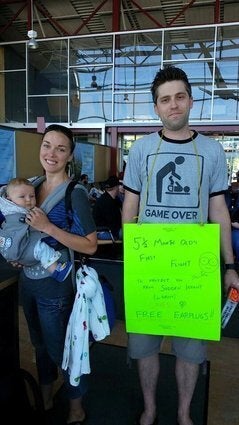 5 Creative Ways Parents Make Friends On Plane