Justin Bieber got a brand new 'do, and he wants us all to know he's "sorry" for it.
The 21-year-old Canadian pop star debuted cornrows on Instagram on Monday, much to his own dismay.
"Hailey made me get corn rows like an absolute douche bag, these will be off tomorrow trust me Danny," he captioned the pic, referring to his rumoured new girlfriend, Hailey Baldwin.
In the shot, the 19-year-old model daughter of Stephen Baldwin and Kennya Baldwin is seen posing beside the "What Do You Mean" singer, sporting her own braided hairstyle, because what better way to show off your new relationship on social media than by wearing matching hairstyles? (Other than posting a steamy kissing shot, of course.)

Here's a close-up of the 'do:

Naturally, the image sparked controversy on Twitter, with several users calling Bieber out for cultural appropriation.
Justin Bieber getting cornrows is cultural appropriation at its finest.

— the boy (@brandonmbriscoe) January 5, 2016
Hasn't one of your friends educated you on why cultural appropriation isn't right?, honestly don't be like this I stg @justinbieber

— naz⚡ (@bieberrays) January 4, 2016
Every time I warm to @justinbieber he does something dumb like get cornrows

— Lizzie (@LizzieRosa95) January 5, 2016
The Biebs, meanwhile, is no stranger to cornrow controversy. Last year, he not-so-famously defended friend Kylie Jenner for sporting the style, arguing that "saying she's being racist because she wants her hair in braids is ridiculous."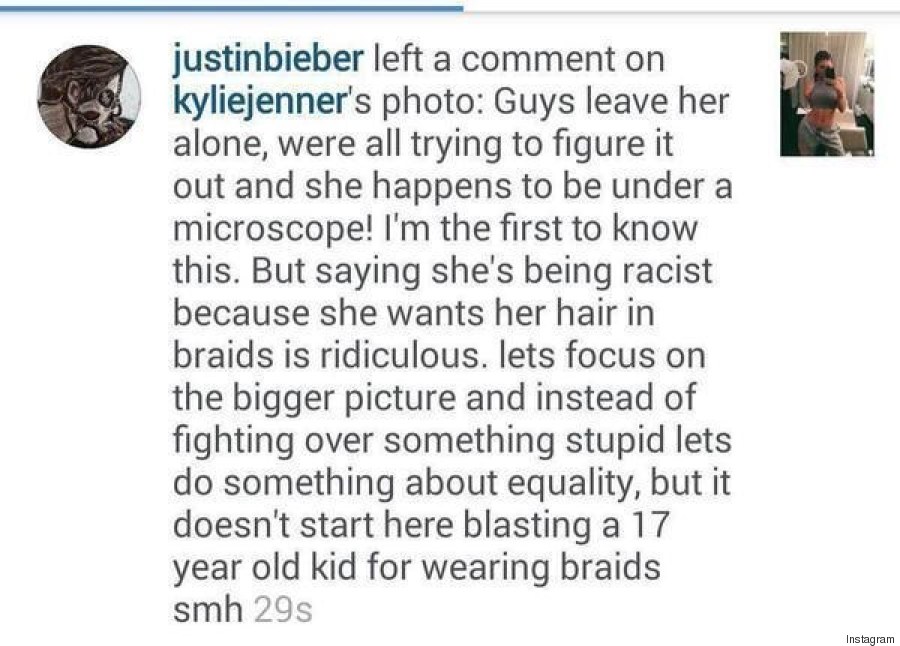 However it seems as though Justin stayed true to his word, and got rid of his cornrows as he said he would:

Follow Huffington Post Canada Style on Pinterest, Facebook and Twitter!
Also on HuffPost