A proposed condo tower in Toronto that would be the country's tallest building is getting even taller, according to a report by a local Toronto blog.
That would make it taller than any other building in Canada, including Toronto's Scotiabank tower (275 metres, or 902 feet) or the Bank of Montreal tower, known as First Canadian Place, which at 298 metres (978 feet) has been Canada's tallest building since 1976.
But it still won't be as tall as some non-habitable towers in Canada, such as the CN Tower (553 metres, or 1,815 feet) and the Inco Superstack in Sudbury, at 380 metres (1,246 feet).
HuffPost Canada has reached out to Mizrahi Developments, and will update this story as warranted.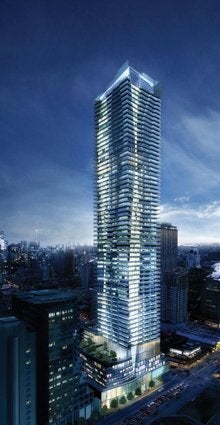 Coolest Condos Going Up In Toronto (2015)