It's the most wonderful time of the year (in terms of reality television) — the show that warms America's heart is back for its 20th season!
Monday night's season premiere of "The Bachelor" was all we dreamed about and more — drama, mini horses, twins and a whole lot of fashion. In the quest to find love, 26-year-old Ben Higgins of Denver, Colo. welcomed 28 stunning women from around America (and Canada!) who could potential be his future wife.
This modern-day fairy tale, full of roses and trips around the world, has been known to bring some interesting fashion choices to our television sets, and last night was no exception. With the dramatic limo exit of each contest comes a pageant-like display of gowns and tiaras (or rose fascinators) that us viewers either admire with glee or cringe in disappointment. It truly is a fashion form of "The Hunger Games."
From the gorgeous to the downright weird, we take a look at some of the major fashion moments from last night's show:
#Twinning
Double the trouble? Or double the fun? Emily and Haley, twins from Las Vegas, didn't arrive in matching outfits sadly, but they did bring a bit of sparkle to the night. Each opted to keep their platinum blond hair down with a light curl. If we're gonna have to pick who won the dress battle, we pick Haley on the right (at least, we think that's Haley) with her embellished, shoulder-baring gown.

Horsin' Around
Yup, a little horse even made an appearance last night. Maegan, who's occupation is listed as "Cowgirl," showed up in true Texan fashion wearing brown cowboy boots that she paired with a low-plunging black slip dress.

Touchdown
Leah was ready to throw a TD straight into Ben's heart with this embellished frock with shimmering pastel pinks, blue and yellow sparkles. The dress fades into a see-through tulle, showing off the event planner's killer silver strappy heels.

The Real-Life Unicorn Emoji
Do unicorns exist? "JoJo" sure thinks so. We're not really sure what is going on here, but we've got to say, the girl definitely knows how to rock a little red dress. And those tie up gold heels make up for that beyond weird limo exit.
The Comeback Kids
Amber and Becca are back for their second chance at love, and the former contestants both opted for black cocktail dresses. Even though we're not really into Amber's draping halter top frock, we dig Becca's frontal cutouts with a high-neck.

Lace In Lace
#TheBachelor recap by @realityeo: Ben Higgins kicks off the 20th season. https://t.co/us2Ao9RNDX pic.twitter.com/SbruUM1zyh

— TorontoStar (@TorontoStar) January 5, 2016
We're betting that everyone is talking about Lace today for making quite the impression on fans last night, but we've got to hand it to the 25-year-old from Denver who sported a interesting black lace frock with a revealing back. The dress' neckline was elegantly showed off by Lace's chignon up 'do.

Canadian Pride
#TheBachelor season premiere recap: We already have a villain https://t.co/6RE8vZHGVw pic.twitter.com/B7fTwhQc2B

— People magazine (@people) January 5, 2016
"Goodness gracious!" said Jami of St. Albert, Alta. as she exited the limo to find Ben standing in front of her. The 23-year-old looked gorgeous in a simple white mini dress that featured lace detailing.

50 Shades Of Caila
At the very least! 🦄🌹🐔👭🐴 #TheBachelor https://t.co/h0xjT2l6iG

— The Bachelor (@BachelorABC) January 5, 2016
The line of the night came from 24-year-old Caila of Hudson, Okla. who donned a shimmering frock with T-shirt sleeves.

Will You Accept This Overly Large Rose?
Anddddd she killed it. Mandi DDS you got it in the bag. 🌹#TheBachelor #firstimpressionrose #dentalhygieneproblems pic.twitter.com/g8fWjkljw8

— Dental Hygiene Probs (@dthyproblems) January 5, 2016
Yes, that is Mandi the dentist donning a rose hat as she meets Ben, which she claims she "picked from the garden." Her gown however was quite stunning — a white body-fitting dress with a high neckline and low back ("business in the front, party in the back!"). She also needs to give us a tutorial on how to achieve such soft curls.

The Front Runner
Olivia = late '90s / early 2000s Britney Spears amiright? #TheBachelor pic.twitter.com/FtImT1h4IS

— POPSUGAR Love (@POPSUGARLove) January 5, 2016
Olivia landed herself the "first impression rose" all while rocking a sequin frock that gave the Internet major Britney Spears vibes.

The Best Dress Of The Night, TBH
The mini horse might be more judgy than Lace #TheBachelor pic.twitter.com/UQMA3FZgPv

— Us Weekly (@usweekly) January 5, 2016
Samantha may have had her dressed stepped on by a mini horse, but that didn't stop her from looking super chic. Wearing a gorgeous red lace dress with a high-slit hitting on the thigh, the 26-year-old attorney played up all the dress' details and proved to have the best frock of the night.

And Ben...
The dapper software salesman kept things classic rocking a black suit with a white shirt and black tie.
In the words of Chris Harrison, it looks like this is going to be the most "dramatic season yet."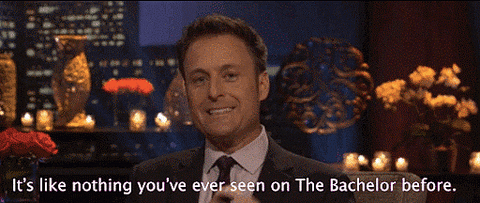 Follow Huffington Post Canada Style on Pinterest, Facebook and Twitter!
Also on HuffPost
Top 30 Reality TV Moments Of 2015