A unique Alberta partnership is helping kids in lower-income countries around the world.
In December, students from Edmonton's Queen Elizabeth High School teamed up with Calgary entrepreneur Colin Pischke to create free 3D-printed prosthetics for children missing fingers or hands.
Pischke, owner of Print Your Mind 3D, struck up the partnership after hearing about the high school's humanitarian program, called Innovate.
The teens are getting school credits for learning how to modify, print, and assemble the prosthetics — all of which will be given to children in need for free.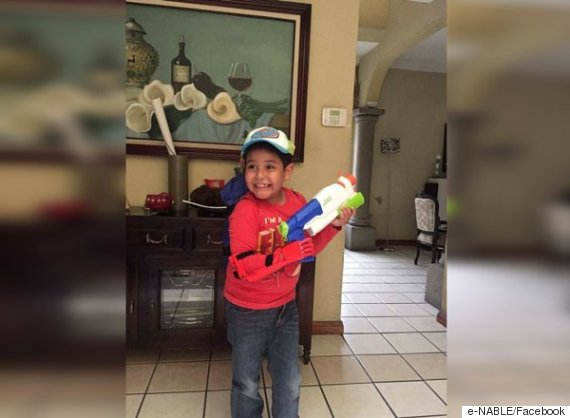 Alberto, an eight-year-old from Mexico, uses one of the e-NABLE's 3D-printed hands to hold a toy gun. (Photo: e-NABLE/Facebook)
So far, the teens have created one hand, and the group hopes to make five more by the end of January.
"When you make something as life changing as this, two lives are impacted. The student or person actually making the prosthetic, and the child who receives it," Innovate instructor Aaron Dublenko wrote in a blog post. "We believe this is something much larger than just a project you put on display on your desk."
"We have been speaking with the students remotely and over the telephone to mentor them through the process of printing and assembling the hands," Pischke added.
The students' prosthetics, which cost about $100 to make, come from free files provided online by global non-profit organization e-NABLE. Each one is customized to fit a child amputee perfectly.
Professionally made prosthetic hands can cost between $5,000 and $10,000.
Pischke is hoping to host an event at Calgary's city hall to teach both students and the public about the project. He launched a GoFundMe page on Monday, hoping to raise $3,500 to build 30 prosthetic hands.
Like Us On Facebook

Follow Us On Twitter

Also on HuffPost:
Two-Legged B.C. Kitten Gets 3D Wheelchair