Sharon Drummond/Flickr
TORONTO — Canada's dollar broke another long-term record on Wednesday, dipping briefly below 71 cents US for the first time in more than 12 years.
The Canadian dollar traded as low as 70.90 cents US just after 8 a.m. Eastern Time but later recovered somewhat. It was at 71.06 cents US — down 0.42 from Tuesday's close — as North American stock markets opened lower Wednesday morning.
Canada's main stock market index, the S&P/TSX Composite in Toronto, plunged 141.84 points to 12,778.30. In New York, the Dow Jones average of 30 stocks was down 223.73 points at 16,934,93, the broader S&P 500 index dropped 23.83 points to 1,992.88 and Nasdaq was down 70.57 points at 4,820.86.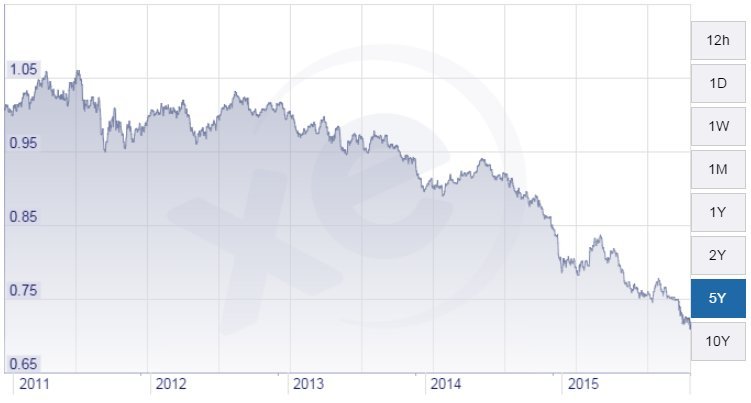 The Canadian dollar has been in long-term decline for years. (Chart: xe.com)
The last time Canada's dollar was worth less than 71 cents US was in August 2003, as it was recovering from a historic low of 61.79 cents US set in January 2002.
On Tuesday, Bank of Montreal chief economist Douglas Porter told a gathering of leading economists that the loonie could fall below 70 cents US before it begins to recover.
The loonie fell 16 per cent in 2015, the third consecutive year it has declined against the U.S. dollar. Traders are losing confidence in the currency as the oil rout continues, and a long-expected export-led recovery fails to materialize.
"Canada is in the midst of an identity crisis," Emanuella Enenajor, senior Canada economist for Bank of America Merrill Lynch, told Bloomberg.
"In the 2000s Canada was the commodity producer to the U.S. In the 90s, Canada was the manufacturer to the U.S. Today, Canada's identity is unclear."
— The Canadian Press, with a file from The Huffington Post Canada
Also on HuffPost
Canadian Dollar Through History