CP
Is it time for Deborah Drever to return to the NDP caucus?
It's a question many supporters of the young, Independent MLA have been asking this week, after revelations were made about the circumstances related to a social media scandal that led to her suspension.
Drever told CBC News on Wednesday when she posed for a controversial album cover that appeared to depict a violent sexual assault, she was misled. She said she had agreed to pose for the photo on the premise that in the image the band would be trying to save her from an attack.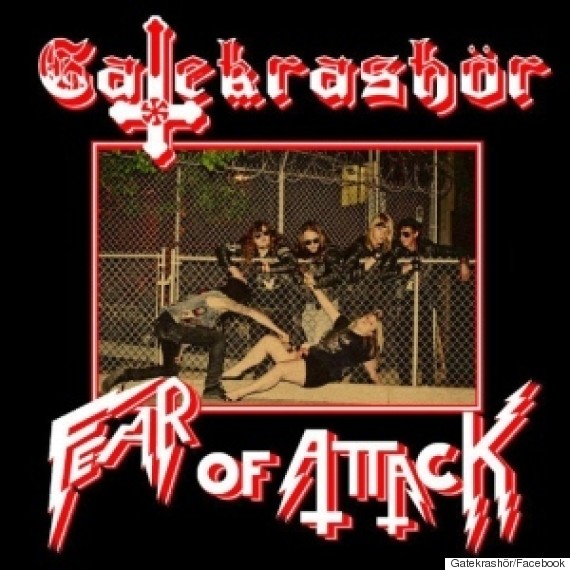 Some interpreted the cover as glorifying violence against women.
Drever said she was "extremely uncomfortable" and asked the band to do a reshoot, but they told her no.
The Calgary-Bow MLA was removed from the NDP caucus by Premier Rachel Notley a few weeks after the May election. At the time, Notley told Drever she could potentially accept her back into the fold if she worked on educating people on the issue of violence against women.
In a recent Calgary Herald interview, Drever opened up about the expulsion and the media outcry that followed her suspension. She said it was an extremely difficult time in her life made harder by the fact she is a victim of abuse herself.
At the time, the 27-year-old was also living with her grandmother to help raise her five-year-old niece. She said media scrutiny and online backlash brought unwanted attention to herself and her family.
I'm continuously appalled by the attacks on women politicians in this province. Embarrasses Alberta. #ableg

— Dani Paradis (@DaniParadis) January 5, 2016
Proving her commitment
Since she received Notley's missive, Drever has made it her goal to help victims of domestic violence. Her private member's bill that allows victims of domestic violence to break their lease, without penalty, if they demonstrate they or their children are in danger, passed unanimously in the legislature in December.
There's a massive wall of support around Drever now. Y'all bullies better be prepared for it. She's not your whipping post anymore. #ableg

— Kathleen Smith (@KikkiPlanet) January 5, 2016
Shannon Phillips, the minister responsible for the Status of Women, said the bill will help ensure survivors of domestic violence are safe and have the support they need to maintain their independence.
Independent in name only?
In light of the Drever's explanation of the album cover and her legislative work, many are calling for Drever to be welcomed back into the NDP — including the Edmonton Journal.
The Journal's editorial board argued Tuesday that Drever has "paid the price" for her mistakes and has proven herself to be a "diligent member of the legislature."
Some PC and Wildrose MLAs agree that it's time for Drever's return, but for different reasons.
After a publishing gaffe in a community newsletter swapped Drever's holiday message with an NDP member's, some politicians said the mistake showed she is an independent in name only.
Let's drop the charade. Ms. Drever hasn't been an independent any more than I've been an NDPer. Been a loyal NDP backbencher. #abpoli #ableg

— Derek Fildebrandt (@Dfildebrandt) January 1, 2016
"Nobody around the Legislature has believed for one minute that Deborah Drever was ever an independent," Wildrose MLA Derek Fildebrandt told the Calgary Sun.
Interim PC Leader Ric McIvor echoed Fildebrandt's thoughts, and said Drever's return would make sense to taxpayers as Independent MLAs receive more resources.
With files from The Canadian Press
Like Us On Facebook

Follow Us On Twitter

Also on HuffPost:
Rachel Notley Sworn In As Alberta's Premier