TORONTO — A new report says sales of homes worth $1 million or more heated up in Toronto and Vancouver last year as the low loonie fuelled demand from foreign buyers. The report from Sotheby's International Realty Canada says sales of homes worth $1 million or more in the Greater Toronto Area rose 48 per cent in 2015 from the previous year. In Vancouver, there were 46 per cent more homes over the $1 million sold last year compared with 2014. The realtor says sales of homes worth more than $4 million grew the most — in Vancouver by 67 per cent, and in Toronto by 71 per cent. But after years of growth, Calgary's high-end housing market declined last year as the downturn in the oilpatch hurt consumer confidence. The Sotheby's report says sales of homes over $1 million fell 41 per cent in Alberta's largest city in 2015 compared with the previous year.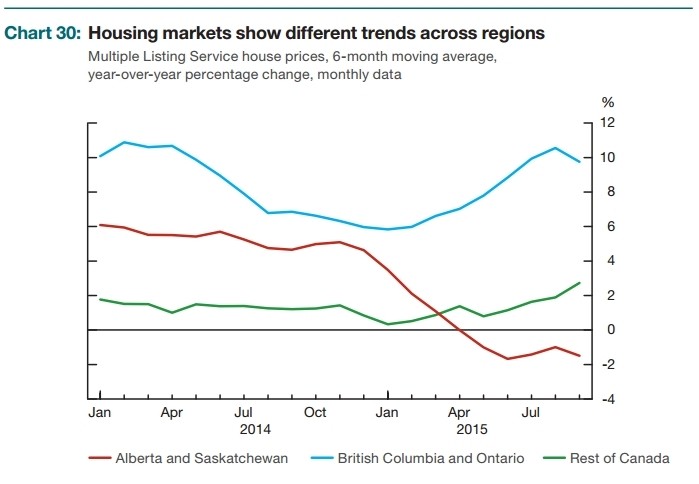 The Bank of Canada says the country effectively has three housing markets: "Markets in B.C. and Ontario have maintained their strength, Alberta and Saskatchewan are experiencing further weakness, and activity in the rest of Canada has been soft."
Elaine Hung, vice-president of marketing for Sotheby's International Realty Canada, said low interest rates, high levels of immigration and a limited supply of homes heated up the high-end housing markets in Toronto and Vancouver. "We had a lot of buyers who were very eager to enter the market, and they were bidding on a limited number of homes, particularly in premier neighbourhoods," said Hung. In many instances, that resulted in bidding wars, according to the realtor.
Most Expensive Homes For Sale In Canada, October 2015
The luxury segment — comprised of homes worth $4 million or more — benefited from all of those factors, as well as weakness in the value of the Canadian dollar. "We did see increased interest from international buyers, so that was definitely a factor," said Hung, referring to the $4-million-plus segment in Toronto and Vancouver. In Montreal, sales of homes worth over $1 million grew by 15 per cent from a year ago. Looking ahead to 2016, Hung predicts more of the same — continued sales growth in Toronto and Vancouver, a further slowdown in Calgary and a balanced market in Montreal.